Latest Team Updates :Honiton Home 26/04​ - Holsworthy Home 28/04 - Emerton Court Wrangaton Away 04/05 
​​Special Events :  Summer Knockouts Now Started ( ​Singles & ​Pairs​ ) - Pentathlon Started 20/03.  
Results Added : Bigbury Away 03/04 - Chris Horgan Trophy 27/03 - Exeter Away 20/03 - Rollup ( nQ ) 20/03  
Next Up :: Honiton/Holsworthy/Saunton Friendlies then Captains Away Day 05/05y Day
Wednesday 26th April - Rollup - Chris Vercoe Reports:
Today's field consisted of 20 golfers the small number being due to a Friendly Match on the same day and Emerton Court practice round on Tuesday.
Three prizes plus the balls. In third place with a score of 76 John Hooper, Keith Ham and Mike Conner. Second place with 77 (4 ball 3/4 handicap) Joe Lawerence, Wally Phillips, Peterson Caston and Paul Dorothy. In first place with 80 points Laurie Taylor, Roger Field and Chris Vercoe. Receiving the balls with 68 Peter Bryan, Coin Parr and Ed Copp. Special mention to Laurie who struck the ball amazingly.
Now I have to admit that it took me three attempts to declare the correct results to which Tom suggested that new elected Committee Persons should first pass a maths test. Then secondly the distribution of the prize money didn't go down well 3rd place £1.00 2nd place £2.00 and £17.00 for first !!!

Monday 24th April - Medal - Paul Willcocks Reports:
The first of the new season's medal competitions attracted a healthy band of seniors prepared to test their golfing skill (whatever that is) off the white tees with a brisk wind helping on some holes and making things difficult on others. The CSS came out at 73 which gives an indication of how difficult the course was playing.
Despite the conditions some good scores were returned, the best of which was a net 68 by David Cousins to lead division 2. Frank Morrell and Andrew Chandler both recorded 70's with countback determining the pecking order. Fourth was Barry Lias with 74 followed by Rick Eidam on 75, Joe Hull on 77 and Robin Tooze with 78.
In division 1 Jim Dunlop led with the way with a fine net 69, 2 shots ahead of Steve Ley and Wally Phillips on 71. They were followed by Ian Pring and John Warren on 72. Mike Conder, Roger Field and Peter Russell claimed the remaining prize paces all on 73.
Inevitably the number of nil returns was in keeping with expectations for medal play with various excuse being offered most of which defied belief but made the players concerned feel better.
Friday 21st April – Rollup – Ian Pring Reports:
12 early birds and 24 second drawsters set out on yet another lovely day which at one point became really hot and sunny so much so that club jumpers were removed all over the place resulting in a remarkable lack of uniform dress standards.
36 entries so 5 prizes : 5th with 75 points, Robin Tooze, Alan Mathews & Andy Scoots - 4th with 76, Rick Eidam, Mike Conder & Dave Vowden - 3rd with 77, Bill Dick, Walley Phillips & Ian Pring - 2nd with 81, Dave Jordan (gross birdie on 12) , Colin Cole & his ball supplier Dennis Wright - 1st with 84, Jim Enright, John Wiggington & Bob Rippon. ( Well done Bob & the boys 3 four pointers 2 for Jim and 1 for John ).
The remainers for the balls were Cyril Dawes, Brian Williams and not Richard Eagles who left directly feeling very depressed and apparently may never return, I think we all understand that dark place that's so easy to slide into during a bad round of golf, even on a beautiful sunny day, so our thoughts and wishes are with you Richard.
Wednesday 19th April - Wednesday Wizards - Dave Jordan Reports: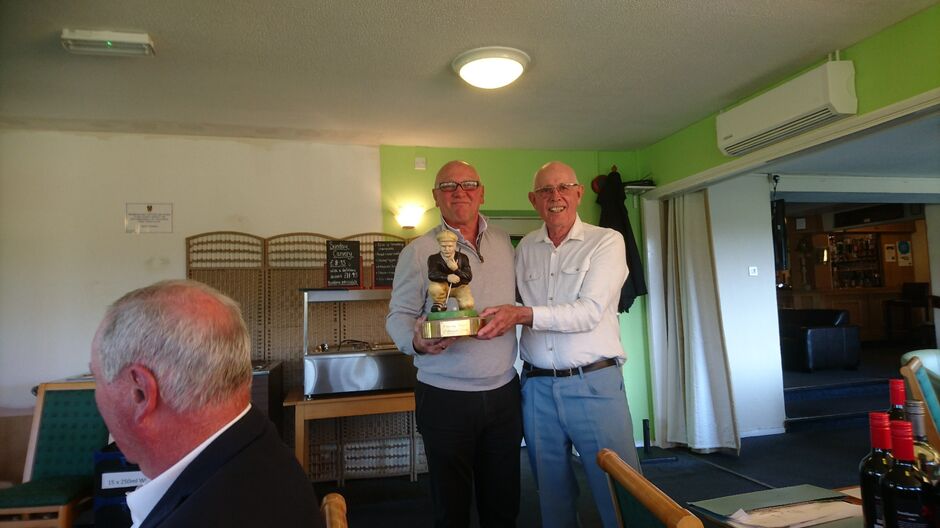 Another wonderful day of sunshine which even a cool breeze at times could not diminish.
There were the usual topics of runaway trollies with various seniors in hot pursuit and who were spritely enough to belie their age.
One interesting rules issue arose; on the 16th I was chipping back down the green when my ball settled against the wheel of Stan Gibson trolley. Now as we all know, if your ball in play touches or strikes the equipment of a fellow competitor there is no penalty and the ball is played as it lies. If however the ball makes contact with ones own equipment or that of a partner then there is a one stroke penalty.
As you may know, Stan and I were in the same team AND fellow competitors and as such we deemed that there was no penalty as there was not anything in the rules which covered this situation. In fact Rules say that two different competitions should not be played at the same time ! !
However, when I discussed this with John Essery he was of the view that the individual card would not attract a penalty but the team one would. My first reaction to this was to think that this seemed to be a persuasive argument, but when I returned home I looked at the playing instructions. The last sentence reads ' The team card may be completed at the end of the comp. if it suits better' This seems to imply that the scores are copied from the card used in the individual competition and that it was an individual comp with its scores reused. Expect to hear more of this.
Results:
Nearest the Pin - Mike Charnock (7th ), Brian Vicary ( 15th ), Richard Tomkins ( 9th for two )
Team Event - 1st (John Essery + Mike Hammond + Peter Bryan), 2nd (Ian Pring + Dave Jordan + Stan Gibson)
Pettifer Trophy 9 Holes. - ( This includes the first nine of players playing all 18 if they are over 80) 1st Dave Jordan, 2nd Cyril Dawes, 3rd Den Conibear.
Individual - 1st Ian Pring, 2nd Mike Hammond, 3rd Roger Gratton, 4th Dave Jordan, 5th Rick Eidam.
It may be of interest that there was only one 2 on the day. This was enjoyed by Den Conibear and earned him £21. Well done Den!
Bank Holiday Monday 17th April - Rollup - Bill Dick Reports:
The tee booking system seemed to be doing well as there were not too many spaces available for those seniors who turned up looking to play.
Two groups of 4 went off followed some 40 minutes later by 2 further groups of 4. The 16 decided to play 4 ball B.B. Behind the last 4 were 4 N.H.S.Scores ranged from 38 to 46.
The excellent 46 was produced by Colin Parr and Steve Lay. Playing with them were Ed (Dorian Gray) Copp and Bill Dick who scored 44 and came second.It was a pleasant day and everyone seemed to have a good time, especially the 4 guys in the prizes.
​Wednesday 12th April - Rollup - Bill Dick Reports:
A dry day but with a biting cold wind- like St Andrews in March.
A society of 21 with a tee booking from 10.30 to 11.15 meant that the rollers start times were extended from 9.00 until nearly 12.00.
However 33 of us (in 11 teams) ventured forth including Tom Berry getting back into the swing of things and Brian Vickary and Jim Downing who have not featured much in recent roll ups.
The above 3 had very different days in terms of scoring but were I am sure glad to be out there.
There were 3 scores in the sixties - all from insomniacs. Then 3 scores of 72. However 2 of the teams had gone so the balls went to the gleeful Mr. Dawes and his partners Dave Jordan and John Hooper.
The team with one of our new members Mike Angus scored 73 but got nothing.
In 4th place with 74 points were Dave Vowden, Jim Downing and Bill Dick.
3rd with 75 points Rick Eidam, Ian Pring and Colin Cole.
2nd with 77 points Chris Vercoe, John Wigginton and Danny Enright.
Clear winners with 81 points were the trio of Dennis Wright, Brian Vicary and John Essery.
The draw for the Wednesday wizards has been made and has been posted. (Who came up with the title wizards? I can think of another noun starting with W that would be more appropriate)
If I had not assisted in that draw I would have thought it was fixed.
The draw for the knockouts has also been made and will appear shortly. If I had not assisted in the draw ( which contains some very interesting ties) I would have thought it a fix.
Monday ​10th April - John Baird Trophy - Eric Parkes Reports:
On a sunny but chilly morning 79 Seniors ( 36 in Division 1 and 43 in Division 2 ) competed for the John Baird Trophy.
It was noted that a number of players chose to give their shorts an airing from which a number regretted the decision by the end of the day. Overall the Course was in good condition but the greens were badly in need of watering. Putting was very difficult which lead to a lot of comment in the Clubhouse afterwards. . Obviously some adapted to the conditions much better than others as the winning scores indicate.
Division 1: Congratulations to the overall Trophy winner Mike Charnock with a score of 40 points 2nd Jim Dunlop with 38 points 3rd Dave Vowden with 37 points 4th John Smale with 36 points ( bb9 ) 5th Cyril Dawes with 36 points 6th Laurie Taylor 35 points (bb9) 7th Frank Saunders 35 points 8th Tom Pettifer 33 points.
Division 2: 1st Peter Johnson with 38 points 2nd Joe Hull 35 points 3rd Eric Fee 34 points (bb9) 4th John Deen 34 points (bb9) 5th Richard Wilson 34 points (bb9 6th Graham Cox 34 points 7th Vaughan Gallavan 33 points (bb9) 8th Ron Berry 33 points (bb9) 9th Cedric Chapple 33 points.
There were 7 twos on the day.
Due to the Computer systems failing late in the afternoon, the result of the Competition had to be brought out by hand which meant that the organiser could not announce the result until close to 5 pm. By this time the majority of the Seniors had departed for home with very few left to hear the result.
Friday 7th April - Rollup - Graham Thompson Reports:
The weather was fine with continuous sunshine and little or no wind and the fairways were immaculate partly at least due to our new mower. However, the scores told a different story with the sandy greens left by the recent course maintenance programme being given the blame. Our members very seldom pray for rain, indeed some are known to be allergic to it, but all of the 32 who entered today's competition agreed that a heavy shower (or two) to wash the sand into the greens would make life on the course a lot easier. The winning score of 77 points by Ed Copp, Ian Pring and Dennis Wright. was very commendable in the circumstances. Dennis had obviously ensured that he was not going to suffer like the greens from a lack of hydration. Two teams recorded 74 points with the 4-ball of Colin Coles, Cyril Dawes, Laurie Taylor and Tom Pettifer beating Steve Gidley, Barrie Green and Robin Tooze with a better back nine (34 against 32). The fourth and final prize was won by Mike Angus (a guest of Mike Conder and a prospective new member), Mike Conder and Dave Jordan.
The day's award for bravery - or should that be sheer brass neck – went to John Cann, George Crabbe and Herbie Smith for staying in the clubhouse long enough to learn that their total of 56 points had won them the award of the balls. They couldn't have had much doubt about this result. This score left them well clear of the field although it was only the four prize winners who carded a score into the 70s. Many if not most of us found the course a little more draining than normal. We are obviously not yet used to continuous sunshine. Our member with the rain allergy reinforced this observation by scoring the day's only 4 pointer on the 14th, but only after taking a well-earned rest on the 13th. He took two shots just to keep his eye in (not with the same ball) and then saved himself for his heroics on the 14th with yet another ball.
Wednesday 5th April - Rollup - Bill Dick Reports:
Cedric was not available for today's issue which is brought to you by Captain Buffalo.It was a lovely spring day.
The kind of day that turns elderly gentlemen's thoughts to replacement hips and funeral plans.
42 of us turned up for the 18 hole event 14 teams and 6 prizes.
It was alleged that Cyril played the wrong ball but he denied it. Cedric hit a longish straight drive of the twelth tee but could not find the ball. John (woody) Cann later found it in a rabbit hole and reluctantly returned it.
Andrew Chandler (aka Sandy) birdied 9 from the greenside bunker.It was suggested that Dave Jordan only paid £2.90 for his team. He strongly denied it but anted up the 10p to stop the rumours.
Bryan Ware rejoined the fray after a few years out with illness. He was lucky enough to be paired with J. Essery and T Pettifer who as a team scored 65 points thereby getting the crocs.
Theirs was not the lowest score, Bob's team scored 60, but 2 of them remained.
The work done on the greens meant that chipping and putting were more difficult than usual, scores not as good as usual.
3 teams scored 76 points but only two of them won anything. Woody and Sandy lost out because they played the back 9 with a player (buffalo) who had "wooden" arms
6th - 76 points J Hooper, D Jordan and M Conder. Also 76 points but better back 6 D Wright E Parkes and I Pring.
2 teams scored 77 losing out on count back were C Dawes N Brumel and P Fricker. 3rd with better back 9 were S Gidley, J Lawrence And A Matthews.
2nd with 79 points were E Mundy P Caston and A Scoots leaving the winning team of Cedric Chapple, Richard Wilson and Herbie Smith to collect the first prize with 81 points.
No envelope behind the bar for them. 2 of them did not mind sitting around for two hours to collect.
Monday 3rd April - Rollup - Cedric Chapple Reports:
Roll up qualifier abandoned, course maintenance. With the eighteenth and tenth greens heavily sanded the course had the look of the lower slopes of Everest. As one wag commented "looks like a new comp today three clubs and a shovel." So, a decision to play team Stableford as normal with to some peoples great delight full handicap and pick and place still in force on the summer course.
So off we went nine in the first draw and eighteen in the second, not a bad turnout given the friendly at Bigbury. A morning with a nip in the air and slightly wet underfoot but clear skies and the promise of sunshine.
The course played quite well with a mixture of full and temporary greens, the latter in serious need of a haircut. However I think many were glad to return to the eleventh and twelfth greens and the elevated fourteenth tee.
So the results. In fourth place with 76 points, Tom Pettifer, John Warren and Wally Phillips. In third with 78 points Jim Downing, AKA Jim Dunlop to his playing partners for the day, John Hooper and lefty Graham Cox. In second place with 83 points, Keith Blake, Peter Caston and Andy Scoots whose finishing was apparently better than the Man United team. And the winners with 85 points Paul Fricker, Cyril Dawes and me! So to the balls, greatfully received by Brian Williams, Colin Parr and Roger Phillips with 71 points.
Rested.
Friday 31st March - Rollup - Cedric Chapple Reports:
Three times in a week? They never told me this would happen.
A suspected low turnout due to a society booking turned out to be not so bad. Thirteen for the draw which increased to fifteen with Dave Vowden agreeing to play plus the timely arrival of Alan Matthews. So five groups followed by a later group of four who agreed to a match play format.
As it was the last day on the winter course we surely could have expected high scores but no, everybody seemed to struggle, some not going the full distance. Weather fairly good with light late rainfall but nothing to really effect the scores.
So the winners with 75 points taking the huge prize money were, Richard Wilson, Wally Phillips and John Warren, I repeat John Warren as he asked me to! Runners up with 72 points, Bob Rippon, Peter Caston and Andy Scoots, money behind the bar. With the early birds and lowest two scores having left the balls were offered to myself, Dave and Alan but we gracefully declined.
No real highlights on the day but Richard Wilson lost his phone on the course. He borrowed a ride on buggy to search an area near the 7th hole with we helpful members safely sat in the clubhouse dialing the number, alas no luck, the phone is still missing.
That's it, nothing else to write until next Monday, joy.
Wednesday 29th March - Rollup - Cedric Chapple Reports:
Me again? Twice in a Week?
Paul Dorothy took great delight in handing me the draw bag on my arrival at the club.
Nine in the first draw with the same number arriving thirty minutes later.
Off we went, nice conditions a little chilly but OK. First group out and good to see the lead in the second group across the second fairway.
All greens hollow tined but again OK we will see the benefit over the summer. Enough said I think everybody enjoyed the occasion.
Results:
Third place with 76 points, John Essery, Wally Phillips and Colin Parr. Runners up with 77 points, Steve Gidley, John Bundtfuss and Paul Dorothy. Winners with a tremendous 79 points, James "silky " Downing, Dave Vowden, contact lens are working and lastly Nick, birthday boy Bromell. Beware the southpaw has reached the qualifying age.
Enjoyed the round, followed by a good rules discussion. Also the 'Shot of the Day', Dave Vowden pitching in on the tenth temporary green for a TWO!!!
To finish, It seems there will be a good turnout on Friday, the later group would like to be in the competition starting on the tenth, Graham please note.
Brexit... Hope you boys in Cornwall will be allowed to re-enter.
Keep on trucking.
Monday 27th March - Chris Horgan Trophy - Cedric Chapple Reports:
Chris Horgan trophy, just up my street, I thought, three clubs and a putter, my normal weaponry.
Really good conditions after two days of fine weather following the rain of Thursday, Friday. The course recovering well giving some travel on the fairways and receptive greens, well that's what the proper golfers told me!
Hollow tining being carried out resulting in five temporary greens on the back nine, as a consequence a non qualifier and the odd moan, "hey ho".
Great turnout some 75 plus seniors exercising their skills with minimum equipment and of course the opportunity to carry without using every ounce of energy.
The results. There were seventeen prize winners all of whom returned scores of par or better. I shall name the top four in each division, the remainder can be found on the web site.
Division One in ascending order, Dave Jordan, Grahame Browne 38, Dave Vowden 38 best back nine and in pole position John Essery with an excellent 39.
Division Two again in ascending order, Peter Bryan 40, Joe Hull 41 continuing his good form and John Bingham 41 with a better back nine. Topping the lot and winning the trophy with 42 points was Herbie Smith who I understand is willing to talk anybody through his round and discuss the trees and birds spotted en route.
A really good day, good company and spring definitely in the air " young men" and all that business, if only we could remember.
Lastly, beware the golf beer mats in the club, example. Ex club Captain reads question from said mat " In 1967 who made the first televised hole in 17 ? Much consternation amongst the group, of course all golf history walking encyclopaedias, banjaxed, no answer? Second member of the group looks at the card reads correctly "first hole in 1?" answer Tony Jacklin relief all round. Note to ex Captain, contact lenses great on the course as supported by his score of 38, not so good in the clubhouse at close range.
Enjoy your golf.


​Friday 24th March - Rollup - John Essery Reports:
The early email message was "Course Closed - To be reviewed at 11.30am", the second email at 10am "Course Open - 17 Main Greens, 1 Temporary Green - Total Trolley Ban". However neither message deterred a large turn out of "Senior Members". A few had seen both message, some had seen one message and some were asking "what message" . Of the large group in the club few were prepared to risk the weather. In the event five put there hands up but were soon joined by a sixth member who had been delayed in the car park whilst deciding which hat to wear. The balls were thrown in the air two three ball teams were identified and the rules of engagement – 9 holes two scores to count.
Starting first were Chris Vercoe, Cyril Dawes and John Essery. Laurie Taylor, David Jordan and Dennis Wright followed but according to the card two of them didn't start until the third when one made a brief appearance but wasn't seen again until the 9th. Notes were exchanged on the fourth and it became clear that the first team out had only to finish the course to claim the prize and that is what happened. 42 points was the winning score with the second place team claiming if points were pints Dennis would have gone home thirsty.
​Wednesday 22nd March - Rollup - Bill Dick Reports:
A not very promising morning turned into a fine after noon. 32 of us got out before the society from Torquay.Included in our number was Mr Jordan who has just returned from a 3 month sabbatical in darkest Africa where he was trying to convert the natives to the virtues of remaining. Also in attendance was the club captain who is always welcome.
There were 4 prizes. 4th with 77 points were Andrew Chandler, John Essery and Bill Dick, 3rd with 78 points were a refugee from the early birds i.e. Bob Rippon with Dennis Wright and Roger Field.
2 teams tied on 82 points. Losing out on count back were Paul Fricker, Wally Phillips and Laurie Taylor.
The winners were Chris Vercoe, Ian Pring and Cedric Chapple. Cedric was the main man in this team but he did not play that well when he played in my team last week.
The 2 four balls had the worst scores but they had gone by the time the last group had finished. So the balls went to Hammy, Dawsey and Sparky with a score of 70.
Changed days for old Cyril who only 12 days ago was in a team who scored 93 points. Memo to Cyril -pick better partners.
Monday 20th March - Individual Rollup – John Cann reports:
With 14 golfers at Exeter for the first friendly of the season and an adverse weather report predicting quite wet conditions the field for the roll up numbered just 21 competitors. Except for one very heavy shower mid-morning the met office forecasting thankfully, did not meet expectations. However, the heavy shower claimed one casualty when our bus driver (retired) called a halt after nine rather than completing the full journey.
Heading the field with 39 points was Jim Dunlop on 39 points followed by Richard Tomkins on 37 and Jim Enright on 36. Fourth and fifth respectively were Peter Caston and Martin Howe both with 34 but separated by back nine scores of 19 and 18. David Cousins took the honours in the two's pool claiming the only one of the day.
Lastly, many thanks to everyone for their contributions during the six-nations rugby. To those who won, good luck, to everyone else don't despair I have plans for the British & Irish Lions tour to New Zealand.
​Monday 20th March - Exeter Away Friendly - Alan Draper Reports:
On Monday 20th March seven pairs from Downes Crediton played against Exeter Golf and Country Club. The deluge of rain we received on the first hole and second tee was fortunately not repeated for the rest of the match and we finished in bright sunshine. Probably the highlight of the whole day was Ian Pring's shot on the 6th hole (Par 3 171 yds ), which finished one inch from the cup and just avoided the penalty of a hole in one and buying drinks for everyone!
It was a superb result for Downes Crediton in that we won 4 to Exeter's 3 points. The course was in an excellent condition and we enjoyed playing the four new golf holes, which are a very good addition to the Exeter golf course.
My thanks to the whole team for an outstanding result and a brilliant start to the new season.
​Friday 17th March - Rollup - Graham Thompson Reports:
The weather looked OK bringing out 33 competitors for the roll-up. The course was looking good, the rain held off and there was even some sunshine. However the cold westerly wind prevented even your reporter from stripping down to his shirt sleeves and the scores suggest that it made the game a lot harder than many of us expected. Some suggested that it was worse for the later starters, but with members in the early draw taking both first and last places, there was little evidence to support this. The organiser's decision to play a "1-2-3" competition with one score to count on the par 5s, two on the par 4s and three on the par 3s probably made things harder for some at least. This didn't stop him bowing to popular demand (well, slightly popular) and agreeing to try the competition the other way round in the future with one score to count on the par 3s etc. Today might have been a good day to make this change as at least 7 consecutive
tee shots involving three teams were hit against the wind into the water on the 13th. This might have been 9 consecutive shots had our President played first in his team instead of last. Scoring on the par 3s was made harder than it need of been for at least one team when our Captain having missed his putt for 3 points on the 3rd had his ball propelled back to him by a team mate who thought that two 3 pointers was sufficient on that hole. The cards show that even the extra 2 points would not have been enough to affect the order of the overall results. It is perhaps interesting to note that none of the 11 teams managed to record 3 scores on all, or even 4, of the par 3s. Indeed, only 3 teams managed it on as many as 3 out of the five par 3 holes.
In the circumstances, the 78 points scored by Peter Caston, Danny Enright and Jim Enright proved to be sufficient to give them first place, two ahead of Rick Eidam, Herbie Smith and Paul Willcocks. 75 points earned third prize for Andrew Chandler, Eric Parkes and Laurie Taylor with 74 points giving the fourth and final prize to George Crabbe, Cyril Dawes and Dave Vowden. Peter Dewhurst, Andy Gibson and Bob Rippon did not hang around long enough to receive their award of the balls for their 65 point score. The award was therefore somewhat reluctantly collected by Paul Fricker, Graham Thompson and Brian Williams.
Wednesday 15th March - Rollup - Ian Pring Reports:
​What a beautiful spring like morning, blue sky, warm sunshine, little wind, absolutely marvelous. The Seniors Captain went out in the first draw due to the greens committee meeting occurring before second draw completion.
15 out from the 1st draw and finally 17 went into the 2nd draw, an unlucky 2 four balls (in the opinion of some), 32 in total so 4 prizes. Did I mention what a wonderful day it was ? In fourth place, one of those 4 balls, John Essery, Colin Parr, Ed Copp & Tom Pettifer with 78 points. Peter Caston, Robin Tooze & Paul Fricker took third place with 80 points. Second spot was taken by the fantastic team of Laurie Taylor, John Hooper & Ian Pring. Pipped at the post by Steve Gidley, Alan Mathews & Paul Dorothy with a better back nine 84 points ( they calculated 83 but on behalf of the committee, their card was corrected to 84 as Steve's 3 for 2 on the 18th became 3 for 3). Ooh ! you can just feel the honesty. For the balls: Mike Conder wanted the balls and was convinced that his team's score of 74 was lower than Cyril's team's 73 for the balls, but alas it was Cyril,Dennis & Herbie for the balls. What a travesty, there were no balls.
P.S. New Prize Charts added - follow link on above notice board.
Monday 13th March - Individual Rollup (nQ) - Bill Dick Reports:
A bright sunny morning gave way to cloudier and cooler conditions as the day wore on. Still it stayed dry. There were 18 full greens and all bunkers in play with trolleys allowed.
This was the first day with the new entry fee and revised prize list in play.
There was an excellent entry of 61 players which meant there were 13 prizes to play for. There were a number of players with 35 points some of whom won something and some who did not.
Roger Field was the overall winner with 42 points pipping Richard Tomkins by 1 shot and Colin Parr by 2 shots.
Overall there were 6 twos and Alan Draper had 2 of them but that did not help him into the top 13.
There were some suggestions on the front 9 that my group was a little slow. However I was playing with Rodger who has a 28 handicap and so takes more shots than most which takes more time. My other partner was Dennis. Dennis takes a little longer because some times he has to rummage in his bag for another ball. I.E. on the 6th green his putt did not find the hole but as a result the ball was dispatched into the river. Also on 3 occaisions in 7 holes he had to drain the tank, which he was prone to topping up from time to time
Friday 10th March - Rollup – John Cann reports:
On a fine, sunny day 33 took to the course soaking up the early spring sunshine. Sales for the upcoming six nations draw went well accompanied by the usual amount of abuse and some bonhomie. Scoring at the top end was impressive but with a range of 19 points from top to bottom some perhaps found the conditions too hot.
With one team to come, early starters in the second draw, Keith Ham, Herbie Smith and Chris Vercoe were sitting comfortably as leaders in the clubhouse having achieved 91 points which on most days would see them in the winner's enclosure. Enter Cyril Dawes with a seasonal spring in his step and the signs for the leaders were not good confirmed when the card was produced with 93 points recorded. Cyril and his partners Colin Cole and Bill Dick took the honours and Keith, Herbie and Chris had to be satisfied with a very good second. Two scores on 87 took third and fourth with Dave Vowden, Dennis Wright and Nick Bromell pushing Dave Warren, Laurie Taylor and Paul Fricker into fourth by virtue of a 44 to 43 back nine.
At the other end there were three scores on 74 with the eventual winners of the balls anticipating their demise by asking for the announcement to be made 'in camera'. There was no chance of burying bad news and John Essery, Roger Field and Wally Phillips fronted up to take the balls.
Monday 6th March - Greenkeepers Revenge & Pre-season Dinner - Alan Draper Reports:
Despite the forecast over the weekend of terrible weather on Monday, it turned out to be a fine day with only a few showers. The Greenkeepers certainly took their revenge on the 24 Seniors' teams that turned out for the shotgun start, with dubious pins on the 8th, 10th and the 17th, which were actually off the green!
The Texas Scramble was won by a team of Eric Munday, Robert Rippon and Martin Rutley with a score of 67, second was Peter Bryan, Quinton Payne-Cook and Ian Pring with 69, winning on countback from the team of Bill Dick, Eric Parkes and Paul Willcocks.
51 members sat down for the much enjoyed pre-season dinner prepared by Laura and her team. Rob and Tony were warmly thanked for keeping the course in excellent condition through the winter and keeping it open so the Seniors could play.
A very big thank you to all the members who donated prizes towards the raffle.
Friday 3rd March - Rollup - John Essery Reports:
There were very few clubs under the balcony yet there were several seniors in the bar but when the hands went up for the draw there were just four, soon to become 5 when one member worked out a way of acquiring a carrying bag and then 6 when another realised why he came to the club. The course had been closed earlier but by 10.30 the front 9, on temporary greens, was open. Bow Belle Roger was consulted on the handicap allowance to which, I am advised, he gave careful consideration before announcing "full handicap". Two teams of three under the command of Roger from Morchard were sent out with instuctions to play, 3 scores to count on the par three and two scores on all other holes.
With just the two teams there was plenty of glancing across to see how the other team was doing and it was encouraging to see the occasional shot being taken from the trees. In the event the scores were high and with 49 points Roger Field, Herbie Smith and David Warren secured second place with the winners Laurie Taylor, Roger Phillips and John Essery with a score of 52. Commander Field was happy to hand over the report writing.
Wednesday 1st March - Rollup - Chris Vercoe Reports:
Hello fellow Seniors it gives me great pleasure to publish my very first Senior Moments. In total we were twenty four in number nine early birds and fifteen in the later draw. The winning team of Nick Bromell, Dave Vowden and Paul Fricker carded 87 points. In second place were Rob Tooze, Paul Dorothy and Joe Lawerence with 83 points. Special mention to Joe who recorded 17 scoring holes. The third place team (Superior back nine) Jim Enright, Allan Matthews and Graham Cox carded 81 points.
I would now like to share some of the lighter moments of our round. The team of John Essery, Ian Ping and Chris Vercoe, Ian and I noticed that JE was usually sensitive and caring towards his golf ball. He was heard speaking to the ball with phrases like "Stay true" "come down softly " and Don't shave the hole. All was revealed on the fourth, JE's ball was called Tracy!!! The relationship blossomed throughout the front nine and onwards to the 10 and the 11th. Alas true love didn't run true as on the 12th off the tee he drove Tracy into a large tree never to be seen again (tart).
Finally, I can describe a lot of my shots as Arthur Scargill,great strike but poor result.
Monday 27th Feburary - Rollup Individual Stableford - Ian Pring Reports:
​My first Rollup non qualifier as organiser, had me in the club earlier than I would otherwise choose, to witness quite a number of Seniors going out before the Rollup but sufferring the worst of the less than friendly weather. So the early draw saw 8 participants go out in 2 four balls. For the second draw after detracting those NHS present and those not playing at all, from the second draw gaggle, a number was concocted in my head and the counters offered out. Aghast ! 5 assorted tokens left in the bag. Grabbing a couple back and then swopping them around, order was finally restored and 18 of us went out in the second draw, so 26 in total.
The rain was intermittant and then tailed off as the rounds progressed with some warm sunshine for a while but a strong cold wind. Main greens all in excellent condition, bunkers in play but shortened course hence non-qualifier.
Laurence Taylor won the day with 40 points beating Paul Fricker on the back 9, there were six prizes and only 4 two's, full details can be found on our Seniors Pages ( Competition Prize Sheets ).
Friday 24th Feburary - Rollup - Graham Thompson Reports:
The weather continues to improve and 26 of us enjoyed excellent conditions on the course today.
The first draw attracted just 8 members which put them into the day's only 4-balls on three quarter handicap. One of these teams was unfortunately disqualified as no handicaps were recorded on the card, just the stroke allowances in the "handicap" column. Members are reminded that gross handicaps must always be shown. The organiser finds it helpful if the stroke allowance claimed is also shown when this is different, but only the full handicap is an actual requirement. Perhaps fortunately, the error made little difference to the competition result as the team concerned recorded the lowest score of the day (66 points) and none stayed long enough to collect the award of the balls.
At the other end of the leader board, scores were high and the results very close. Two teams scored 86 points with a remarkably good back nine of 47 points rather surprisingly relegating Rick Eidam, Chris Vercoe and Dave Vowden to third place despite Dave's 2 on the 18th. A 48 point back nine gave second prize to Mike Conder, Herbie Smith and Laurie Taylor. This left Cyril Dawes, Ian Pring and Graham Thompson to take the first prize with 87 points including a back nine of 49 points.
Jim Downing, Nigel Evans and Dennis Wright suffered the misfortune of losing one of their number after nine holes as Nigel was feeling unwell. A 30 point front nine including a not insignificant contribution from Nigel could not have helped. Nonetheless, the remaining twosome turned in a very creditable 41 points on the back nine, but this was not enough to avoid the award of the balls for their 71 point total. Their back nine deserved better.
On a day of high scores, we must report Colin Parr's feat of scoring an eagle 3 on the par 5 5th while playing with the NHS group. Claims that he achieved this with a tap-in were quickly dismissed, but estimates of the length of his 3rd shot varied wildly with a figure of about 150 yards receiving the most support. Well done, Colin. The NHS is obviously in ruder health than the papers would have us believe.
​Wednesday 22nd Feburary - Rollup - Paul Fricker Reports:
The course was dry and with high winds growing through the day as Storm Doris started to sweep by us slightly to the North. 1st with 84 Jim Enright : Eric Munday : Joe Lawrence.
2nd with 83 Dennis Wright : Rick Eidam : Nick Bromell.
3rd with 80 Paul Dorothy : Dave Conabeare : Danny Enright.
4th with 79 Herby Smith : Ed Copp : Paul Fricker.
I could not find the bag with the balls, these would have been collected By Wally Phillips : Ian Pring : Keith Ham with 75. A slight issue with rules on the 13th hole see 'Rules Arising'. Although Keith had to recreate their card as he lost the original somewhere between the air compressor and his car. He was later heard to say "I knew that would happen".
Monday 20th Feburary - Pairs Stableford - Ian Pring Reports:
​A misty start developed into a generally overcast day with light drizzle that was very intermittant and of short duration. The wind got up and was gusty in the later rounds. Very little to report on any incidents for the day except I forgot my golf shoes and Keith Ham's trolley threw itself in a bunker out of sheer depression and is now having councelling. The course without any recent downpours was relatively dry. There was an entry of 70 providing 5 prizes. First with 44 points were Richard Tomkins and Vaughan Gallavan the other pairs all had 43 points: 2nd Stephen Gidley & Barrie Greedy, 3rd John Smale & Jim Dunlop, 4th Alan Draper & Ian Pring, 5th John Essery & John Hooper. Two's were achieved by 10 pairs with a prize per player of not very much. Full prize details available as normal on the senior pages when logged in.
Friday 17th Feburary - Rollup - Graham Thompson Reports:
​A good turnout of 33 members entered today's competition, a number helpfully split 12 and 21 between the first and second draws. The weather was kind and beginning to warm up after the particularly cold spells that accompanied some of our games earlier in the year. Scores were good reflecting the excellent condition of the course with a creditable 87 points earning first prize for Mike Conder, Paul Fricker and David Vowden. Dave Conabeare, Danny Enright and Bob Rippon took the second prize with 84 points ahead of Rick Eidam, Colin Parr and Herbie Smith in third place with 80 points. Three teams contested the fourth and last prize each with 79 points. Two of these also scored the same on the back nine (39 points) but a better back six of 27 points won the prize for John Bundfuss, Paul Dorothy and Richard Wilson ahead of Andrew Chandler, George Crabbe and Dennis Wright with 23 points on the last six holes. They left empty-handed along with John Essery, Wally Phillips and Paul Willcocks whose 45 point front nine, the best of the day, and 65 on the first 13 holes clearly led to overconfidence and a collapse of concentration as they approached the finishing line.
67 points would have seen the balls awarded to Peter Caston, Joe Lawrence and Andy Scoots, but they decided that the prize was not worth the wait. This left your reporter together with Ian Pring and Tom Pettifer to receive the award for their 75 point score. This might have been avoided had Tom's eagerness to keep play moving not led him to stand by his ball on the 5th fairway some 30 yards ahead of your reporter whose thinned shot struck Tom on the foot and incurred the unwanted two ( one stroke penalty [ Rule 19-2 applies ] ). Tom shrugged off the injury and continued undeterred but Ian was sufficiently disconcerted to play the wrong ball on the next hole and incur a similar penalty. After that, lost balls and penalty drops were sufficient to prevent a full recovery
​Wedneday 15th Feburary - Rollup - Bill Dick Reports:
An ugly duckling of a morning turned into a swan of an afternoon. However the early rain did deter some as only 18 players in 6 teams competed, which meant 3 prizes.
One temp green , all bunkers and trolleys were in play.
In 3rd place with 84 points came Jim Enright, Herbie Smith and Paul Dorothy. Memo to Mr. Dorothy. With your teams handicaps you only get one shot each on the 18th hole.That means a gross 5 is a net 4 which equals one point.
2 teams tied on 88 points (4 fat ladies). Losing out on count back (46points) were Cedric Chapple, Laurie Taylor and Nick Bromell. First place therefore went to Joe Lawrence, Graham Cox and Paul Fricker with a back 9 of 47 points.
"Winning" the balls with a respectable 82 points were John Essery, Keith Ham and Ian Pring. Also on 82 points were Paul Willcock, Dennis Wright and Chris Vercoe. They had Paul W to thank for missing out on the "Crocodile Rock" as he holed a tricky 15 foot downhill putt on the last green. To quote the late great Henry Longhurst "This is what you dream of".
Monday 13th Feburary - 3 Man Team Texas Scramble - Eric Parkes Reports:
On a bright sunny day, there were 81 entrants for the Texas Scramble. Although the wind got up during the day,,the temperature was much warmer than those recently experienced during the cold snap.
The course looked superb and a credit to the Greens staff ,although playing conditions were tough at times with little or no run on the ball . It was reported than one player lost a ball to a crow, but apart from this, there is very little else to comment upon.
The result is interesting in as much as there were 6 teams contesting 2nd to 4th place with a score of 67.
In 1st place with a score of 66 were Cyril Dawes, Paul Fricker, Brian Kelly, 2nd with 67 points (bb9),Frank Morrell, Roger Wellaway Eric Munday.
3rd with 67 points (bb9) Styeve Gidley ,Simon Mann ,John Wigginton. 4th with 67 points Keith Blake, Andy Scoots, David Warren.
On the day there were 17 two,s worth £2.37 per team.
Friday 10th Feburary - Rollup - Graham Thompson Reports:
The surprising lack of a frost this morning allowed us to play the full course without restrictions save the bunkers being GUR. The forecast cold easterly wind never arrived and the threat of rain was low enough to allow even Rick's well known allergy to precipitation to remain quiescent. Your organiser was therefore rather surprised to start only 23 members in the day's competition; 11 in the first draw and just 12 in the second. Tales of missed (just) putts abounded but the condition of the greens prevented the blame from laying anywhere else than in the hands of the man with the club. Scoring was close with three of the seven teams carding 80 points, but only two of these received a prize leaving Cyril Dawes, Brian Williams and Dennis Wright empty-handed with their 38 point back nine. A 41 point back nine gave the third prize to Paul Dorothy, Danny Enright and Mike Hammond. They did not stay long enough to collect their prize and the organiser's failure to locate a suitable envelope meant that they may have to wait some time before receiving their winnings, and even that relies on the organiser's memory working rather better than it has of late.. Second prize went to Rick Eidam, Herbie Smith and Dave Vowden with a 44 point back nine allowing Wally Phillips, Laurie Taylor and Graham Thompson to take the first prize four points clear of the field with 84 points. Your reporter was thus happy to record a thoroughly enjoyable day's golf.
Wednesday 8th Feburary - Rollup - Bill Dick Reports:
On a very pleasant winter's day we had 1 temporary green and no restrictions on trolleys. Bunkers were still "G.U.R." due to earlier rain.
9 in the first draw which included the club captain even if he is a bit young for seniors, 24 in the second. 33 in total which equals 4 prizes.
A cluster of teams on 82 points lost out as did one on 83 points who scored 43 on the back 9. This is because the 3 ball of Dave Warren, Colin Parr and Wally Phillips also scored 83 but had 47 on the back 9 so they claimed 4th place. Envelope will be placed behind the bar next week.
Coming 3rd with 86 points came Dennis Wright, Bill Dick and Paul Willcocks. Were they affected by the absence of Dennis for two holes due to call of duty or was it nature calling? Who knows. Anyway in 2nd place with 88 points which included a back 9 of 49 points were Herbie Smith, Roger Field and Mike Conder.
However blowing everyone away were Nick Bromell Chris Vercoe and Graham Cox with 94 points scoring 53 on the inward half. Even allowing for the shortened 16th hole that is mighty impressive.
Or maybe handicaps need to be looked at. Maybe somebody from handicaps and competitions should be looking at these guys. Me for example.
Monday 6th February - 4BBB stableford – John Cann reports:
An early morning frost signalled a trolley restriction and temporary greens which soon improved allowing normal trolley service to resume. The threat of rain became a reality but as the many weather forecasters in our group said 'not as bad as they said'.
Calculators were still required for the three-quarters of nine-tenths handicap calculation which for the winners, Jim Dunlop and Barrie Greedy, held no fears in returning a score of 48 points. Second place with 45 points were Frank Morrell and Roger Wellaway closely followed a point away by Alan Draper and Ian Pring. Also on the same score and fourth by virtue of back nine scores were Dennis Wright and Rick Eidam.
There were 11 twos achieved by Keith Blake(2), Brian Kelly(2), Jim Dunlop, Jim Enright, Paul Fricker, Martin Howe, Alan Matthews, Frank Sanders and Laurie Taylor.
Wednesday 1st Feburary - Roll Up - Paul Willcocks Reports:
Fifteen early birds and nine elevenses rolled up in response to a fairly encouraging weather forecast despite a temporary trolley ban that was lifted following a late-morning inspection of the wicket. The early birds certainly caught the worms with two groups claiming two of the prizes. The combo of Jim Enright, Alan Matthews and Dave Conabeare were 3rd with 89 points and Danny Enright (hint of a family conspiracy here?!!), Richard Wilson and Graham Cox came second with 92 points. Top of the pile with an incredible score of 95 points were Cedric Chapple, Dennis (Guinness-is Good-for-You) Wright and John Cann. Scores greater than 74 points (the significance of which number will become apparent shortly) will no longer be possible as the invigilator immediately signed an Executive Order making them illegal.
There is no justice in this world as the two teams scoring a measly 72 points b******d off leaving a distraught trio of Paul Willcocks, Herbie Smith and Mike Conder to collect the balls with what they regarded as a respectable score of 74. No doubt even seniors will now see the importance of that number.
Monday 30th January - 3 Man Texas Scramble - Eric Parkes Reports:
An entry of 81 Seniors were down to play in the 3 Man Texas Scramble on Monday 29th January.
It was most unfortunate that the weather lived up to the forecast of very high winds and torrential rain from mid morning.
The early starters gained a very slight advantage over those playing later in the morning but overall, playing conditions turned out to be miserable for all concerned. The back nine needed extra care as the day progressed due to surfaces becoming very slippery in places.
Having said this, the result of the Competition proved to be a very close call with just two strokes separating the four Prize Winners.
In 1st place with a score of 65 was Alan Draper ,Ian Pring, Bill Dick, 2nd with 67 (bb9) Mike Charnock ,Danny Druce ,John Bingham .
3rd with 67 (bb9) Tom Pettifer, Walter Lonsdale, George Crabbe6 4th with 67 Peter Bryan, David Cousins, Martin Howe.
Although not the norm, the organiser decided to award any two,s of which there were 13 worth £3.09 per team.
The day did not end on a high note for the organiser/writer who managed to top up his his diesel tank with unleaded fuel.
Yes, I was very late getting home .
Friday 27th January - Roll Up - Graham Thompson Reports:
The cold south-easterly wind that started the day soon moderated to a very light breeze making it a good day for golf. The course continues to be in excellent condition and the scores reflected this. Only 30 members entered the competition, perhaps some were saving themselves for the Captains' Drive–in the following day, but we enjoyed conditions that could hardly be bettered for this time of year.
An excellent 86 points (including 7 points – and a birdie – on the 2nd) won first prize for Cedric Chapple, Paul Dorothy and Steve Gidley. Cyril Dawes, Roger Field and Paul Fricker took the second prize with 83 points, 2 points ahead of the third placed team of Mike Conder, Ian Pring and Herbie Smith. Two teams came in with 80 points but a better back nine of 44 gave the fourth and last prize to Ed Copp (2 "p"s and 1 "o", David, not the other way round), Graham Thompson and Dave Vowden ahead of Peter Bryan, Rick Eidam and Brian Williams.
Peter Dewhurst, Andy Scoots and Ray Williams would have been awarded the balls for their 72 points had they stayed. The same applied to Peter Caston, Wally Phillips and Bob Rippon with 74 points. This left a tie for the award with a normally very respectable 78 points between John Essery, Roger Phillips and Dennis Wright and Keith Ham, Tom Pettifer and Laurie Taylor. Both teams had a 39 point back nine and both had 26 points on the last six. However, a storming finish of 14 points on the last three holes by Keith and partners left the award to John, Roger and Dennis. They probably deserved better balls than the ones they actually drew
Wednesday 25th January - Roll Up - Bill Dick Reports:
Another day another heavy frost but,instead of fog, bright sunshine. Nevertheless it was all temporary greens and all bunkers "G.U.R."
Just after 9.30 A.M. 7 insomniacs set off carrying their golf bags.They had the worst of the conditions and that was reflected in the scores.
The second draw was delayed slightly when it was announced that the trolley ban would be lifted at 10.30. This encouraged some potential N.H.S. players to play the full 18.
With 21 in the second draw we had a field of 28 which meant 4 prizes.
The trio of Colin Cole, Roger Phillips and John Hooper scored 66 which was not quite the worst score but was bad enough to get them the balls.
2 teams tied for forth with 75 points but by virtue of a back 9 of 42 Cedric Chapple, Keith Ham and Wally Phillips got 4th.
Pipping them by 1 shot in 3rd place were Laurie Taylor, Colin Parr and John Essery.
A further shot ahead on 77 points winning second place were Cyril Dawes, Dennis (Mr Punctuality)Wright and Ian Pring.
In first place with 79 points we find Tom Pettifer, Chris Vercoe and Bill Dick. The latter played the last 12 holes in 46 gross but Alan Draper is not worried.
Monday 23rd January - Roll Up - Bill Dick Reports:
The individual roll up planned for today was abandoned.
A heavy unexpected frost allied to freezing fog meant that all regular greens were out of commission and a total trolley ban was in force. Only 4 worm catchers were present for the first draw and they decided to do their own thing.
There was almost no enthusiasm for an individual roll up at the time of the second draw and so 15 rollers set off in teams of 3 to play a Texas scramble.
Visibility from the first tee was just about O.K., but in the lower reaches of the course it really was not playable. However the 15 and the the 12 nine holers behind them managed without mishap until around 1 P.M. when the fog cleared and revealed a fine winters afternoon.
2 Prizes with second place going to Andrew Chandler, Herbie Smith and John Cann who scored a net 59.2.
However they like everyone else was left trailing in the wake of Alan Draper Chris Vercoe and Cedric Chapple who scored a net 53.6. They played the last 4 holes in 5 under par.
Friday 20 January - Roll up – John Cann reports:
The heavy overnight frost and the requirement to carry did not put off 22 determined souls from taking to the course to compete. Half handicap was the rule and with seven in the early draw the resulting four ball had to test their arithmetic prowess calculating three-eighths before a ball was struck.
The runaway winners were the team of Colin Cole, Cedric Chapple and Ian Pring scoring 87 points. Chris Vercoe, Rick Eidam and Keith Ham with 81 filled second spot beating Dave Vowden, Denis Wright and John Cann into third by one point.
The early draw three-ball of Andy Gibson, John Bundfuss and Joe Lawrence (62) and the four-ball of Paul Dorothy, Ray Williams, Steve Gidley and Barrie Greedy (71) saw the writing on the wall and had vacated the premises prior to the 'award' of the balls. This left Laurie Taylor, Roger Field and Herbie Smith with a respectable 76 to put their hand in the bag.
Wednesday January 18th - Rollup - Bill Dick Reports:
A fine January day with a full course and no restrictions saw 36 rollers in the two draws. This included the late arrival of the incoming club Captain Alex Williams.
He is welcome to join us any time he likes but unless he is in my team he will take a handicap restriction.
Five prizes on offer plus the balls. The lowest score of the day was 63 points by Steve Gidley's team but they did not hang about so the balls went to Cyril Dawes, Dennis Wright and John Essery with 71 points.
5th place with 77 points went to Wally Phillips, Ray Williams and Peter Dewhurst. 4th with 79 were Tom Pettifer, Roger Phillips and Chris Vercoe.
2 teams tied on 80 points. With a back 9 of 41 3rd were Dave Conabeare, Peter Caston and Joe Lawrence. A back 9 of 43 saw the four ball of Jim Enright, Bob Rippon, Graham Cox and Nick Bromell come second.
This left the four ball spearheaded by the above Alex Williams to come in first with 82 points. His playing partners were Ian Pring, John Cann and John Hooper (not him again)
Monday 16th January - Medalford - Graham Cox Reports:
Mid January, the weather fair, and the course in good condition. And so the scene was set for some good golf from the 24 teams with the fun Medalford format.
Unfortunately a helicopter parked on the 11th fairway meant that the competition had to be adjusted to 17 holes (no Crazy Golf option in the rules), but despite that there were some very good scores posted.
First and second place went to teams both of whom produced net scores of 25. Andy Scoots, Keith Blake and Dave Warren took the honours with an impressive 44 front nine and the better back nine, leaving Martin Howe, David Cousins and Graham Cox in second place to bemoan their dropped shots on the 18th.
The 3rd and 4th placed teams also both had the same net scores (29) The winners on countback being Keith Ham, Ed Copp and Barry Lias, with Alan Wiley, Gerry Hodder and Peter Stunell taking 4th place.
Despite the excellent overall scores there were only 4 "twos", resulting in each of the successful teams receiving £9.
And so back to the drama of the helicopter, care of Devon Air Ambulance.
I can report that despite his mishap Paul Willcocks is well, and was back at the club on Wednesday looking his usual suave self. I am sure we are all pleased to hear he is recovered and in good health. Rumour has it that the pressure of playing with the Captain and Vice Captain, together with a score of 42 on the front nine, and 6 points on the 10th, was all too much on the day. But I guess we will never know, as Paul took the card with him to hospital, and I had to "DK" the team for not submitting a card!
I am sure that Paul, or his partners, will be happy to regale the complete saga if bought a drink.
I understand that Paul was pleased to tick "Helicoptor ride" off his bucket list, although he would have preferred it not to have been flat out on a stretcher!
Friday 13th January - Rollup - Graham Thompsom Reports:
Friday 13th clearly persuaded a lot of our regular competitors not to chance their luck – or perhaps it was just the weather. A bitterly cold north-westerly wind certainly didn't help although we were once again fortunate (and grateful to our green staff) with the course in good condition, all main greens in play and only the very wet sand in some of the bunkers to cause unwelcome difficulties. Despite this, some of the thirteen of us who went out found scoring unusually difficult with one team to your reporter's personal knowledge failing to score at all on the first hole. Only one team, the 4-ball of John Essery, Ian Pring, Herbie Smith and Dennis Wright managed to better par with a score of 77 points. 71 points was sufficient to earn the second and only other prize for Cedric Chapple, Paul Dorothy and Richard Wilson. The other two teams suffered from a recurrence of the trolley control issues that were once the staple diet of these reports. The only Phillips in today's competition spent so long looking for both his first and his provisional ball in the woods on the right of the 11th that his trolley decided it was time to move on and was only just saved (by about 2 feet) from embarking on a hectic scramble down towards the 12th green. Its owner saw none of this but on his return to the fairway several minutes later was surprised to find that his first ball had not gone over the edge but was waiting patiently for him on the edge of the rough. The 2 points he eventually scored there were well short of the number needed to avoid him winning the balls ably assisted by his two partners, Mike Conder and Graham Thompson.
Wednesday 11th January - Rollup - Bill Dick Reports:
No restrictions on the course or on trolleys. Course in very good condition.
30 attended the roll up draws with a further 12 doing 9 holes. Not a bad turnout on what was a very windy, but dry, day.
Our reporter was restricted to playing with the 9 holers by Affairs of State (mug shot).
In the big roll up there were 4 prizes with 4th going to Ed Copp, Dennis Wright and Ian Pring who had 75 points.
3rd with 76 points were Richard Wilson, Peter Dewhurst and Nick Bromell.
2nd with 78 points were Joe Lawrence, Graham Cox and Danny Enright.
The winners with 80 points were Rick Eidam, Paul Fricker and Keith Ham.
2 teams tied for last with 68 points but only one remained and they collected the balls. Tom Pettifer, Chris Vercoe and Mike Conder were the unlikely lads.
Monday 9th January - Greensomes - Ian Pring Reports:
Well ! not Foursomes but Greensomes, however if the first drive was good it very quickly became foursomes anyway. The faces of all about to enter the fray showed concern of the forcasted storm. However it never really came except for 15 mins towards the end by which time most had returned to club house heavily clad but relatively unscathed. It was enough though to break Bill's brolley swiftly fixed by our main fixer Andrew for very little reward, no surprise there then. Highlights from my own personal experience was a sandy 2 from a less than healthy Colin C on hole 7. Oh ! also it has to be reported: Balls thrown by the little wizard = 0.
Results on above link.
Wednesday 4th January - Rollup - Bill Dick Reports:
The first roll up of the new year was held on the full course with trolleys allowed. For the time of year the course is in excellent condition.
26 of us rolled up- 13 in each draw, 3 prizes.
3rd with 81 points were Nick Bromell, Jim Enright and Alan Matthews.
2nd with 82 points the trio of Dennis Wright, Paul Fricker and their anchor Roger Phillips.
However winning by a distance were the 3 ball of Ian Pring, Johnny Hooper and Bill Dick who scored 90 points.
The 3 lowest scores were recorded by early birds who had left by the time of the announcement. This left the balls between 2 teams on 80 points.
The organiser initially got it wrong but eventually the crocs went to the four ball of John Essery, Keith Ham, Cyril Dawes and Wally Phillips.
Monday 2nd January 2017 - (3 Clubs and a Putter) - John Essery reports:
A cold start, in more than one way, three clubs and a putter received an icy reception and with ground frost the front 9 were all temporary greens which resulted in a reduction to half handicap adding significantly to the frigid conditions. If that wasn't enough we apologise to other club members for the inconvenience caused by not noticing that today was a bank holiday when the competition was included in the diary which denied others access to the first tee until shortly after 11am. At least conditions improved sufficiently by then to return to main greens.
A good turn out for a Bank Holiday saw 53 competitors, 29 in Division 1 and 24 in Division 2, take to the course and despite the usual comments from the higher handicappers on the the number of shots lost the scores in both divisions were very similar.
In Division 1 the top scores were 32 with Jim Dunlop edging it over Ed Copp on a better back 9, third and fourth both had 31 points with Arthur Moughton getting the verdict over serial winner Alan Draper.
In Division 2 the leading scores were 31 where Graham Jones beat John Dean on the count back, third and fourth shared 30 points with Roger Gratton getting the decision over Joe Hull.
With just four clubs in the bag trolleys were in limited use, however one regular when asked why he was not carrying appeared over his bag and four clubs and under his panama most indignantly and inquisitively, but refrained from saying "do you know how heavy a gallon of Guinness is" that is of course at the beginning of the round, it gets lighter as the round progresses.
Later in the round it was difficult to understand how with just four in the bag one of our members, affectionately sharing his nickname with one of Santa's reindeer's, left 25% of his clubs on the 12th green. To avoid any delay and already with his latest ball lost, the finder delivered the club to the left handed user who clearly had not noticed it was missing when with surprise he said"Where did you find that?"
Hopefully despite the cold start and the less than usual points tally the sunny day gave us all a good start to the new year in the knowledge that that in most cases, if not all, today was our worst score of the year so far and there is better to come. Next week (9th January) "Greensomes" is the competition where you can always blame your partner for a poor score.
Wishing you all a happy golfing in 2017.
---
2016
---
Friday 30th December - Rollup - Graham Thompson Reports:
The heavy overnight frost made a total trolley ban and the use of temporary greens inevitable. However, the frost soon lifted allowing trolleys on the course much to the relief of many. The accompanying mist also began to lift allowing a small but intrepid contingent of seven to start following the first draw. Unfortunately the mist soon returned both delaying the second draw and forcing the greens staff to close the course temporarily. All of the early seven failed to summon up enough fortitude to continue when the course re-opened leaving the competition to twelve slightly more determined souls to go out following a much delayed second draw.
Temporary greens made for a more rapid game with Keith Ham doing a sterling job geeing up both Wally P and Jim D in the first team out to avoid any problems with the fading light at the end of the afternoon.
A points score of 82 off half handicap was enough to earn first prize for Cedric Chapple, Rick Eidam and Dennis Wright. With 81 points the second - and only other prize - went to Mike Conder, Paul Fricker and Ian Pring. A modest 73 points, to which your reporter contributed very little, gave Cyril Dawes, Herbie Smith and Graham Thompson the award of the balls leaving the aforementioned Keith, Wally and Jim the only team to come away with nothing.
And a happy New Year to you all.
Wednesday 28th December - Rollup - Bill Dick Reports:
A hard frost, a trolley ban and temporary greens. 19 players which meant 3 prizes.
As I approached the 15th tee I noticed Eddie Popham, who was going to the second tee, having a discussion with 4 boys, one of whom was in the river hazard but not in the water. He had in his hand one of the yellow stakes.
It was one of my playing partners, who really should have been a diplomat, who addressed the boy in a very stern fashion ! and advised that they should remove themselves from the course otherwise they would be in trouble.
That seemed to work but just as I was about to hit my wedge to 4 feet for a certain 2 the lad shouted something which affected my swing. It took all my skill and ingenuity to get a three.
Worse was to follow on the 16th tee. Just a millisecond before my driver sent the ball soaring 250 yards in a gentle left to right direction onto the green the ball fell off the tee.
I did manage to make some contact with the ball but the end result was a five not a three. This cost our team 2nd place.
3rd was Ian Pring, Dennis Wright and Bill Dick with 76 points. 2nd also with 76 points were Herbie (sockless) Smith, Rick Eidam and Wally Phillips.
However winning by a distance were Cyril Dawes and the two aforementioned Peelers Keith Ham and John Essery. They scored 83 points.
The two early bird teams both scored 69 points but they had gone when the balls were presented to Paul Fricker, Peter Bryan and Ed Copp with 72 points.
New Years resolution from Dennis. He will not drink alcohol in January (before 10 A.M.)
Wednesday 21st December - Rollup - Bill Dick Reports:
12 in the early draw and they played the usual.
8 in the second draw and they played a 4 ball better ball.
A real mixture of scores in the early draw but winning with 89 were Nick Bromell, Paul Dorothy and Graham Cox. Second with 86 were Cedric Chapple, Alan Matthews and Mike Hammond.
The better ball winners with a score of 45 were Paul Fricker and John Rance who pipped Bill Dick and Dennis Wright on a better back 9. The 4 teams were only separated by 2 shots.
Monday 19th December - Team 1-2-3 Stableford - David Jones Reports:
84 seniors turned out for the 1-2-3 Team competition. The weather was mostly kind, although the early starters enjoyed the best of the conditions. Barry determined the format, three to count on the par 3s, two on the par 4s, etc, which most enjoyed although, being seniors, there was always going to be some grumbling, in this case about the time it took to enter the results on the computer. Despite extensive journalistic investigations, nothing of note seemed to have happened during the event, although Dave Jordan had a low level encounter with the 16th green, with Bill Dick, allegedly, heard telling him "to get a grip".
There were 14 team "twos", worth £3 each. Of these, the team of Kevin Woolacott, Peter Carr and Jim Kensole, got the lions share with 4 twos. Not surprisingly then, they also won the overall team competition with 83 points. Early starters David Conabeare, Roger Gratton and Hugh Fernyhough came a close second with 82 points, enjoying a better back nine than Graham Cridland, Arthur Moughton and John Rance. The fourth and last prize went to Robert Dobson, Joseph Hull & Peter Russell with 81 points, easing out Colin Cole, Ian Pring and Dennis Wright over the back nine.
Friday 16th December - Rollup - BillDick Reports:
Another fine day, another lunch-for some.
Only 25 rollers which meant 3 prizes.
3rd with 79 points were John Essery, Rick Eidam and David Jordan.
2nd with 83 points were John, Herbie and Dennis. Herbie did not supply surnames so I assume they are all royalty.
However thanks to Dave Vowden who holed a 4 foot putt on 18 for a two and 4 points, which gave his team 84 points, the winners were Dave, Laurie Taylor and Bill Dick.
Cyril did not win the balls with 75 points, because with 74 points were Mike Conder, Brian Greedy and the Heavitree lineman Wally Phillips.
Wednesday 14th Decemeber - Rollup - Bill Dick Reports:
On another fine December day 19 were in the first draw and 15 in the later one.
4 prizes with 4th going to Colin Cole, Cyril Dawes and Dennis Wright with 82 points.
There were 2 teams on 83 points. Herbie Smith, Mike Conder and Paul Fricker had a back 9 of 43 points.
Dave Jordan, Peter Bryan and Keith Ham had a back 9 of 44 points.
Winning with 85 points were Mike Hammond, Peter Caston and A. Gibson.
The balls went to the team who finished 7th out of 11 with 79 points but who were present namely John Hooper, Jim Downing and Chris Vercoe.
Monday 12th December - 3 Man Texas Scramble - Andrew Chandler Reports:
Almost perfect December weather with no course restrictions brought a field of 71 seniors (regrettably one was unwell on the day) for a format that was as always enjoyable. I was delighted to see that newer and indeed younger members also turned out and significantly infiltrated the prizes. The format does keep most players involved throughout the round and the writer got very excited when he carried the bunker on the 18th with his tee shot to set up one of his partner to get the two. I was asked why no two's? 2 many is the answer.
For the record the winning team of John Dean, Simon Mannell and Graham Pateman had a net 62 which was one better than Steve Lay, Tom Long and Quin Payne-Cook. Cyril Dawes nearly pulled off the coup he had been working on with his partners of Paul Fricker and Paul Willcocks, but had to settle for 3rd. John Bundfuss, Peter Dewhurst and Mike Hammond completed the prize winners with a net 64.
Winter competitions continue and your support is appreciated.
Friday 9th December - Rollup - Graham Thompson Reports:
The unseasonably mild weather returned which when coupled with the lightest of breezes gave excellent conditions for golf. The organiser's decision to change the competition to make only one score count on the first three holes and three scores on the last three added an extra challenge and meant that the last three holes – three of the more difficult ones on the course - played a decisive part in the overall result.
Five of the eleven teams in the competition scored more than 80 points with Bill Dick, Paul Willcocks and Dennis Wright taking the first prize with an excellent 88 points; a result which on this occasion was accepted graciously by all the other competitors. 4 points behind with 84 points was the first draw team of Peter Dewhurst, Paul Dorothy and Ray Williams which earned them second prize just one point ahead of the third placed team of Wally Phillips, Herbie Smith and Chris Vercoe. Two of the remaining teams scored 81 points but a better back nine (47 against 43) gave the fourth and final prize to Danny Enright, Jim Enright and Richard Wilson leaving Nick Bromell, Graham Cridland and Joe Lawrence empty handed at the end of the day. Not so Roger Phillips, Graham Thompson and David Warren who were awarded the balls for their 65 point total. David had been persuaded to play the full 18 holes in order to give all 3-balls in the second draw. That of course was before he knew the identity of his partners. The front nine went well enough with all three sharing more or less equally in the scoring. The back nine must have left David questioning his judgement when he scored more (substantially more) than his two partners put together. He left early and may be pleased to learn that the organiser drew a Callaway from the bag of balls on his behalf. His two partners were deservedly less fortunate.
Wednesday 7th Decemeber - Rollup - Bill Dick Reports:
A lovely winters day and a course in first class condition but all was not well in the house of Downes.
16 in the early draw and, thanks to Walter 18 in the second draw. That included a newbie (John Rance) who drew the two Pauls as his partners. A nice introduction for him.
On my return to the clubhouse I started to hear whispers and rumours of an altercation. A verbal spat, raised voices, an angry exchange. Gentlemen " we can't have fighting in the war room"
Anyway 34 players = 4 prizes. Taken out of the prizes because of an unfortunate error were one team who would have had 82 points. This opened the door to 2 teams on 80 points. Gaining 4th place because of a better back 9 were John Hooper , John Essery and Rick Eidam. Third with 82 were Nick Bromell, Richard Wilson and Ray Williams ( Richard has the cash).
2nd with 89 points (we did not win? "I don't believe it") were Cyril Dawes, Herbie Smith and Bill Dick.
The winners with 93 yes 93 points were Mike Hammond, Robyn Tooze and Richard "Sugar Ray" Nicholls. Envelope is behind the bar and by the way nice tidy card boys.
Monday 5th December - Poultry Stableford - Bill Dick Reports:
On a cloudy but dry day with a decent temperature and little wind 84 of us competed for food.
The course was in excellent condition for the time of year. The only complaint would be about the number of leaves still lying around. Having said that some of our number felt that we did not need to be using the tee boxes as the regular tees are still in good shape.
There were 5 prizes for each division as follows:-
Div 1 Div 2
5th place Ed Copp 38 points David Moss 36 points
4th place Hugh Fernyhough 40 points Andrew Chandler 36 points
3rd place Mike Hammond 40 points Eric Mundy 37 points
2nd place James Downing 42 points Paul Willcocks 38 points
1st place Alan Draper 42 points Herbie Smith 38 points
Those who did not collect their vouchers on the day can collect them from behind the bar.
Interesting that the winner in Div 2 scored the same as 5th placed man in Div 1.
Friday 2nd December - Rollup - Graham Thompson Reports:
A heavy overnight frost brought 16 temporary greens into play with only the winter 11th and 12th of the full greens remaining. The accompanying trolley ban was too much for many and some who got as far as the club house decided to play only the front nine. All five of those attending the first draw chose this option leaving just 15 of us in the second draw to face the course off an unaccustomed half handicap. The winning team of Herbie Smith, Laurie Taylor and Paul Willcocks made light of the problems and returned an excellent 86 point score. The team of Andrew Chandler, Bill Dick and Dennis Wright were 7 points down on the winners but still managed to take the second (and only other) prize just one point ahead of the chasing pack. Both of these teams had clearly got the measure of the temporary greens and their partially frozen approaches. Not so your reporter who with Michael Conder and David Vowden put in an unchallenged claim for the award of the balls with a 67 point score. A widespread failure to assess correctly the speed of the greens was their main problem, although it wold have helped considerably if they had avoided losing their balls on several occasions in the remaining leaves on the course. This problem was compounded on the short 15th by their captain who landed his ball on the fringe of the pond only to see it skate gracefully across the ice before burying itself in the rushes on the far bank.
Well, at least the course was open and the inexpert opinion of several players was that the main greens might have been back on had we been able to wait a little longer before starting. In the event, the greens staff sensibly took no risks and having started on temporaries, we had to continue that way.
Wedneday 30th November - Rollup - Bill Dick Reports:
Lovely sunny St Andrews day, but cold and frosty.
Total trolley ban and 18 temp greens in play which meant half handicap for the 24 players who took part and three prizes.
There were two teams of 3 in the early draw and they had the worst of the conditions which was reflected in the scores.
In third place with 79 points were Paul Fricker, Dave Jordan and Bill Dick.
Second with 83 points were Chris Vercoe, Dennis Wright and Keith Ham, but the leaders of the pack with 84 points were Waldo Phillips Paul Willcocks and Mike Conder.
The lowest score was 66 recorded by one of the early birds however of those remaining the balls went to George Crabbe, Ian Pring and Jimbo Downing wiyh 67 points.
2 of our number are going on holiday.
Andrew C is going skiing whilst I.M.P. is off to the Carribean.
Where would you prefer and which one is more likely to return with a broken leg.
That's all folks.
Monday 28th November - 3 Man Team Medal – John Cann Reports:
On a calm but chilly day 22 teams of three took to the course in the team medal. With just one score to count expectations of a competitive total were no doubt high. The course was in good condition and the greens excellent, what could go wrong? The unwanted crows were seen around the course but there were no reports of their malicious behaviour although some shots might have benefitted from being removed from position of rest.
Twenty teams recorded a score better than par but the runaway team with 17 under par or 53 were Robert Dobson, Jim Dunlop and Peter Russell. The last team out on the day shattered a few dreams when David Warren, Mike Conder and Dave Vowden came in with 56 to take second place. Third on 58 were Andrew Chandler, Brian Williams and Paul Willcocks and Cyril Dawes, Paul Fricker and Alan Draper took fourth with 59.
There were six twos on the day – Jim Dunlop and Dave Warren achieve two each (including Jim's gross eagle on 12) and one each for John Cann and Jim Kenshole.
Friday 25th November - Rollup - Graham Thompson Reports:
The late November sunshine accompanied by only a light (but cold) breeze gave us a good day for golf. The course remains in remarkably good condition despite the recent very heavy rain with only standing water in some of the bunkers to remind us of the deluges of recent days. Winter golf seldom gets much better than this. Good scores were recorded by at least some of the 32 members who entered today's competition. An 86 point total gave first prize to Tom Pettifer (who scored on almost every hole), Herbie Smith (who scored on most of the rest) and Graham Thompson (who played a canny strategic game contributing a few good scores when needed). An 84 point total was shared by two teams with Cyril Dawes, Paul Fricker and Chris Vercoe claiming second spot by virtue of a 45 point back nine. 41 points on the back nine relegated Mike Conder, Keith Ham and Paul Willcocks to third place, one point ahead of Andrew Chandler, Ed Copp and Eric Parkes who won the fourth and last prize. The last team to return to the clubhouse of Colin Cole, John Essery and Roger Phillips were awarded the balls for their 69 point total.
One team was disqualified for not including their handicaps on their card, but they would have won neither a prize nor the award of the balls had their card been valid. One member of that team apparently lost a towel to which he had a strong emotional attachment when playing the back nine. It was found by our Captain – but then lost again. The pressure of the game clearly affects some more than others.
Wednesday 23rd November - Rollup - Bill Dick Reports:
It was a blessing to have a cold but dry day after the heavy rain of the previous 2 days. It was also a blessing to play on a course in such good condition after such weather.
18 greens in play all in first class condition. O.K. the bunkers were out of play but Tiverton had 18 temps and Exeter was closed. Where would you want to be.
A large society had booked the tee from 11.00 to 12.00 and boy did their breakfast look good so we had 3 draws. 13 in the first then 9 then 12 giving a total of 10 3 balls and 1 4 ball which meant 4 prizes.
The E.B's. dominated with 4th place going to Robin Tooze, Peter Caston and Roger Southgate with 83 points.
Breaking up the E.B. monopoly were John Hooper, Alan Draper and Bill Dick with 84 points.
2nd with a score of 87 which would have won most roll ups were Eric Monday (personal score 42),Jim Enright and John Bundfuss.
However winning by a distance were the trio of the newbie Nick Bromell, Steve Gidley and Paul Dorothy with a score adjusted down to 92 points (not the 95 shown on the card).
Paul-If a player has a 14 handicap then he does not get a shot on the holes with stroke index 15-18.
Nick was credited with a really good round which he indeed had but he received generous assistance from his partners. Pol Dot had 2 four pointers.
The lowest score of the day of 74 was returned by Cedric's four ball but they had left. Three teams handed in cards with 75 points entered in the score box.
In trying to ascertain who had "won" the balls I could not understand why the team with the best front 9 also had the best back 9. Wally 40 and 38 equals 78 not 75.
The balls ended up with Roger Phillips (happy), John Cann (unhappy-alergic to crocodiles) and Ian Pring (happy)
Friday 18th November - Rollup - Graham Thompson Reports:
About 15 members decided that the clubhouse was a more convivial place to spend the morning than at home, but they were almost all characterised by a marked reluctance to venture out onto the course. Even the organiser left his clubs (temporarily) in his car. The main problem was not just the heavy showers that had passed through earlier in the morning but a forecast of "cold, wet and windy" that the Exeter based Met Office had issued the evening before. Eventually, the arrival of a small contingent of "NHS" players made organising a draw for a 9-hole competition possible. The wimps remained in the clubhouse – or mainly at home – but the 8 members who ventured forth enjoyed a spell of very good golfing weather with almost no wind and nearly continuous sunshine. The rest did not know what they were missing.
A 4-ball better ball competition ensued with just two stableford points separating the first from the last pair. 21 points earned a modest first prize for Ed Copp and David Warren with Richard Nicholls and Herbie Smith just getting their money back for a second place score of 20 points. Countback was required to separate the final two pairs, but it hardly mattered as the organiser (who would not have benefitted) decided to keep the balls in the bag for another day. The scores might have been different were it not for the return of the kleptomaniac crows. One of these thieving birds picked up Paul Willcocks' third shot from the middle of the 4th green. This was observed by all and the ball was replaced. Stan Gibson was less lucky. The crow was spotted again near the ball, but no-one saw the snatch and It had therefore to be treated as a lost ball. Whether it was the crow or the leaves that caused the loss was never finally settled. Only nine holes, but a good day's golf nonetheless at least for those who accepted the challenge.
Wednesday 16th November - Rollup - Bill Dick Reports:
On a decent November day which got windier and colder and ended with some light rain 40 rolled up to play the 18 holes. There was also a healthy contingent from the N.H.S.
With a field of 40 there were 13 teams and 5 prizes. Coming in 5th with a score of 78 (which was a winning score on Friday 11/11) and ( which was 5 better than the 6th placed team) were John Essery, Laurie Taylor and Bill Dick. They would have done better if the 3rd player's swing not vanished for 6 holes in the middle of the round.
4th with 79 points in the quiet compartment we found Keith Ham Herbie Smith and Graham Cox, guys we only need 2 scores on each hole.
One shot better in 3rd place with an immaculate card were John Warren, Jim Downing and Mike Conder.
Second with 82 points the early bird team of Jim Enright, Mike Hammond and John Bundfuss.
However with 84 points the winners were Colin Cole who used a borrowed one iron to great effect, (pay the man Colin) George Crabbe and Dennis Wright.
George's 2 foot putt on 13 which secured 4 points did their cause no harm at all.
The lowest score of the day was recorded by a team who manages 63 points despite a combined handicap of 78. I will not name them to spare Cedric.
The rest of the scores were between 69 and 73. The lowest of those left was 70 so the balls went to Wally Phillips who picked out 2 balls kept one and put the other back-naughty naughty,John Cann and Chris Vercoe.
Dave Jordan produced a large amount of his birthday cake which was available to anyone after they had finished their round. When I got in it had almost all gone, thanks guys.
Monday 14th November - Canadian Foursomes - Andrew Chandler reports:
72 players took part in this competition, a somewhat different format than usual but one that appeared to go down well.
There were only 2 two's R. Dobson & P. Russell and J. Dean & R, Rippon who all receive £9 each. The full results are in the usual place but my congratulations to Frank Morrell and Roger Wellaway who won with 40 points and are now £20 each better off in their pro shop account. We are now into winter so competitions will become weather dependent, but where possible we will try to keep a competition going even if it means mixing and matching players on the day.
Friday 11th November - Rollup - Graham Thompson Reports:
The threatened early morning frost either failed to arrive or was cleared long before our senior citizens braved the elements. The 32 of us therefore played on main greens throughout. There were calls for the bunkers to be declared G.U.R. on the grounds that they would be full of leaves, but the organiser ignored them. The leaves, like the frost, were well gone before we set out but the hard packed wet sand made him rue his decision on more than one occasion.
All of us appeared to find scoring difficult despite the fine weather and absence of any significant breeze. The winning score of 78 was recorded by Bill Dick, Keith Ham and Herbie Smith with Andrew Chandler, Mike Conder and Tom Pettifer taking second place one point behind. Two teams scored 75 points with Cyril Dawes, John Essery and Dennis Wright (the bookies' ante-post favourites) taking the third prize with a 40 point back nine, one more than the 4-ball of John Bundfuss, Paul Dorothy, Bob Rippon and Ray Williams. Rick Eidam, Eric Parkes and John Veale all remained in the clubhouse long enough to collect their award of the balls for their 63 point score.
Wednesday 9th November - Rollup & Dave Jordan's 80th Birthday Celebration - Bill Dick Reports: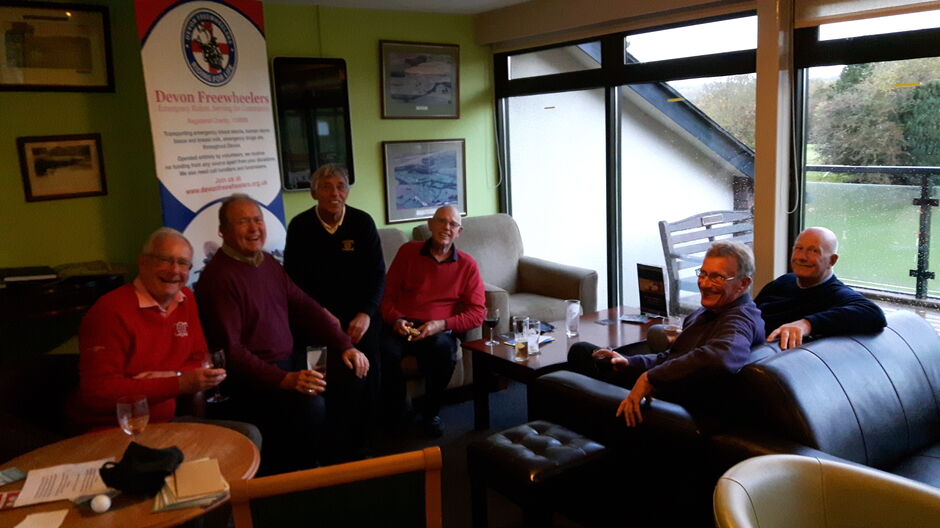 The day started with showers and strong winds. As it progressed the showers got longer and then there was peels of thunder and a flash of lightning, which took some players off the course for a short time. Others claimed not to have heard the klaxon. Almost as soon as the klaxon sounded we were subjected to a very heavy hail storm which turned the 18th green white in next to no time. Ultimately the 36 players completed their rounds.
The Roger Phillips story: He was very upset by the heavy rain, not because it affected his golf but because he could not roll up a fag. His golf in fact was phenomenal with pars galore due to being straight and at times credibly long from the tee with great putting and a gross birdie on 9.
After I put my clubs away I was walking back to the clubhouse when I noticed Rick on the 18th green.
He had a four foot putt-he missed it.
He was left with a nine inch putt- he missed it.
In disgust he picked up his ball and threw it at the pond-he missed it.
There were 5 prizes with 5th place on 75 points going to Rick Eidam, Colin Parr and Brian Williams.
On 76 points in 4th place were Tom Pettifer, John Essery and Bill Dick.
Coming in 3rd without their hearing aids but with 79 points were Dennis Wright, Graham Cox and Paul Fricker.
This left the first two places going to early birds with Steve Gidley, Joe Lawrence and Cedric Chapple coming second with 82 points. Richard Wilson has your envelope.
Because he along with Nick Bromell and Danny Enright returned the best score of the day-83 points.
The balls went to Paul Willcocks (taken), John Hooper (declined) and John Cann (declined) with 70 points.
They should have gone to Peter Dewhurst, Jim Enright and Roger Southgate who had 66 points. However two of them had left and the organiser did not notice that Peter, unlike Elvis, had not left the building.
Monday 7th November - Medalford - Bill Dick Reports:
A good field of 75 turned up on what was a fine November day. 25 teams and 4 prizes.
Dead foliage on certain parts of the course caused a number of players problems in finding balls. We need a gale, but not on our days.
There were 17 twos so the payout for each one amounted to 73 pence per team member. The list is on the notice board.
Coming 4th with a score of 28 were Mike Conder, Stan Gibson and Dennis Wright.
3rd with 26 were David Lee, Colin Parr and Jim Kenshole.
Incidently Cyril made 2 errors on his card but neither of these was with regard to the gross score. Cyril keeps a very neat card but correct is more important.
2nd with 25 points were Brian Kelly, Alan Draper (he must be slipping) and Andrew Gilg.
Winning with a score of 24 were Robert Dobson, Peter Russell and Joe Hull.
Friday 4th November - Rollup - Bill Dick Reports:
Weather not as good as at Wedmore but not too bad. 15 in the first draw and 12 in the second. 27 players 4 prizes.
The early birds took 4 of the first 5 places which would suggest that they had the better conditions although there did not seem to be much of a difference.
4th with 75 points but a better back 9 were Ray Williams, Joe Lawrence and Paul Dorothy.
3rd with 77 points were the trio of Graham Cridland, Bob Rippon and John Bundfuss.
2nd with 79 points were Richard Wilson, Peter Caston and Andy Scoots.
However maintaining the honour of the late guys were the first out in the second draw of John Essery, Peter Bryan and Laurie Taylor who scored 81 points. Peter managed to get consecutive 4 point holes by scoring 3 gross on 12 and 13.
Last group in were John Veal, Dave Vowden and Dennis Wright who scored 69 which "won" them the balls. This was hard luck on Dennis who scored 39 points from 17 holes. He blobbed 15 but so did his team mates.
Wednesday 2nd November - Isle of Wedmore – Graham Thompson Reports:
29 members (there should have been 30) visited the Isle of Wedmore Golf Club to take advantage of its winter offer and enjoy a fresh challenge. The challenge this year was first to understand the organiser's rules for a new additional "orange ball" competition and only then embarking on an unfamiliar and in places demanding course. Losing the orange ball (donated to each team by the organiser) disqualified the team from this second competition. Perhaps introducing this on a day on which the course contained large numbers of fallen autumn (orange!) leaves was not the cleverest decision and in fact only two teams managed to bring their orange ball safely through the eighteen holes. It fell to the Club Captain (and Chairman of our Greens Committee) to come in with the best excuse for losing his by reporting that it was (allegedly) swept up by the Wedmore greens staff when tidying the leaves. Your reporter too lost his team's orange ball after playing it into a patch of dead leaves beside the 9th fairway, but he was unable to come up with such a plausible excuse.
The main competition – the normal two-scores-to-count stableford – was won by Cyril Dawes, Colin Cole and Mike Mullarkey with 83 points. This win came despite the reluctance of their orange ball player to appear on the scorecard. Only 4 holes included a contribution from the orange ball despite keeping it in play until the 11th hole. Much of the credit for the victory went to their Cornish representative who clearly found the course much more suited to his style of play than most others. Second place went to Keith Ham, George Crabbe and John Veale with 81 points followed in third place by Ed Copp, Bill Dick and Ken Legassick with 80 points. The fourth and final prize was won by the last team out of Ian Pring, Andrew Chandler and Roger Phillips. This last team also won the orange ball competition with 34 points, 3 points more than Keith Ham's merry men who took the only other prize in that competition. The big loser on the day was the organiser who only recovered two of the ten balls he handed out at the start of play.
Wednesday 2nd November - Rollup - Jim Enright Reports:
The cold start to the day was soon brightened by glorious sunshine and, despite a large contingent playing away at Wedmore, we attracted 19 players for the draw.
In 3rd place was the 4 ball of Jim Enright, Richard Nicholls, Ray Williams and ex-captain Quin Payne-Cook who together amassed 74 points off 3/4 handicap.
In 2nd place it was Joe Lawrence, Cedric Chapple and Eric Fee with 80 points.
The winners with 82 points were John Bundfuss, Paul Dorothy and Danny Enright.
Monday 31st October - 3 man team 1-2-3 Stableford - Andrew Chandler Reports:
On a beautiful Autumn morning golfers arrived to play their 123 Stableford amidst the amazing Autumnal colours only to find the fiendish Seniors Captain had changed the format to 3-2-1. Despite some groans, mainly from future prize winners, 78 players joined in the competition of whom 7 manged to achieve a two which was worth the grand sum of £1.85 for each member of their team.
There were some impressive scores with 76 being sufficient for 4th place for Graham Cridland, Bob Rippon and Eric Munday. 77 points enabled John Essery, John Cann and Rick Eidam to get 3rd spot. Runners up with 80 points were Keith Blake, David Taylor and Mike Hammond. But clear winners were the dangerous combination of Alan Draper, Cyril Dawes and Paul Fricker. Very well played to the winners and a big thank you to all who took part. As a footnote, will players marking the card please take care. Some cards could have been filled in by the players dog more neatly and one nameless team in the prizes was one of the guilty ones. If a card is unreadable DQ may be the only option so please do take care.
Friday 28th October - Rollup - Ian Pring Reports:
Another warm autumnal day with little wind and fantastic tree colours throughout the park providing easier conditions and a lovely back drop for our rounds.
The early draw went solo but 21 in the second so all three balls.
In 3rd place with 82 points were Daves, Jordan & Vowden along side Laurence Taylor. With 47 on the front nine and a loud declaration of the best ever by Cyril Dawes, he and his compatriots Bill Dick & Graham Cox came in 2nd with 84. So the winners today after a magnificent effort by Paul Willcocks with 3 x 4 pointers were Paul and his team of Dave Jones & Ian Pring coming in with a round 90 should have been more but limited to save further embarrassment or h/c inquiry. So after a half time stop off in the club house I rush up to the 10th tee and assuming the other 2 had gone as there are 2 balls up the 10th fairway I tee off but Paul then arrives beside me with driver in hand before remembering he had already done the deed just previous ! Well when you build them up you have to knock 'em down. The balls were recieved by Rick Eidam, Brian Williams & Denn is-late Wright with a credible 75 points.
Wednesday 26th October - Rollup - Paul Fricker Reports:
Firstly congrats to 'The Little Master' who arrived only 2 minutes late for the last draw. An ongoing investigation by his colleague of many years into why he is always late for every event that he ever attends ( known as the 'Rick Inquiry' ) has been further hampered due to lack of evidence with still no date for completion and release of this report.
There were 10 early birds and 18 players in the main draw so from the prize list there were 4 prizes for 28 players.
4th by virtue of a worse back 9 were John Essery, Dennis Wright and Eric Parks,
3rd Rob Tooze, Bob Rippon and Ray Williams both on 76 points.
2nd.with 77 points Dave Vowden, Ed. Copp and Ian Pring.
1st by 4 clear shots on 81 were Peter Caston, John Bunfuss and Richard Wilson.
The balls were collected by Our Seniors Captain along with Colin Parr and George Crabb.
Friday 21st October – Rollup - Bill Dick Reports :
Or possibly - Rhubarbs by Wordsworth: On a lovely late autumnal day 30 rollers ...rolled up to play With 30 players the prizes are four If you want to win one you will need a good score.
Now out of ryhmes which is just as well Because all our readers are thinking what the hell !
Forth place thanks in part to 2 great recoveries were Rob Tooze, Bob Rippon and John Bundfuss with 77 points.
Picture this- you are standing on the 12th tee with a competitive team score and your handicap is 24. You watch a twelve handicapper hit his drive against the 4 guardian trees and rebound where like Paulie in the Godfather "you wont see him no more". Never mind next up is a 13 handicapper. Big slice "Bye bye ballie". Your up next. You hit a 5 iron to the top, 6 iron down to the pan, wedge to 20 feet, putt to 19.5 feet, tap in par for 3 points and walk down to the 13th.
This helps the team of Mike Conder aka Mickey C, Laurie Taylor aka Ell Tee and Peter Bryan aka Joe Cool come in 3rd with 78 points.
In 2nd were the pre match favourites for the balls who scored 82 points. Known as "The Big Three" they are Stanley G, Richard E and Billy D.
However it was no surprise that the winners with a score of 85 points were Tom Pettifer (that is the correct spelling), Denis Wright and Ian Pring. The closing announcement was delayed by 30 minutes as the organizer tried (in vain) to find fault with the winning card.
The lowest score on the day was 62 but they had gone leaving the balls to Colin Cole, Keith Ham and Ricky Eidam with their score of 72.
P S
I wandered lonely as a cloud...
no mates.
Wednesday 19th October - Roĺlup - Bill Dick Reports :
15 early birds rolled up by 9.30 and rolled off in 5 groups of 3.
At 10.15 another 15 pulled out a number and prepared to go off in 5 threes. (Actually only 14 drew a number as the organ grinder selected his before the draw.)
Seconds after the draw a retired policeman appeared. The organiser's suggestion that he make a four ball with the last group did not go down well with one of that group so after a brief discussion he joined the third group who became a four and went out last.
31 players = 4 prizes. Forth with 74 points losing out on the back 9 were Simon Mannell, Roger Southgate and Richard Wilson.
Also with 74 points but coming 3rd by virtue of a better back 9 were the 4 ball of Richard Tomkins, Bill Dick, Mike Conder and John Essery.
2nd with 75 points and a collective handicap of 83 were Peter Dewhurst, Paul Dorothy and Cedric Chapple.
Although a wheel came off his trolley the wheels certainly did not come off Dave Jordan and his teammates Chris Vercoe (who scored 10 points on the last 3 holes) and John Cann whose 80 points ensured a comfortable win.
The poorest score of the day of 65 was recorded by Tom Pettifer, John Hooper and Paul Willcocks and they hung around long enough to collect the balls.
Monday 17th October - Hip Hooray Trophy - Paul Willcocks reports:
Eighty-four seniors entered today's competition (one of the biggest entries in recent months) which is an indication of how many people are waiting for replacement surgery and hoped to jump the queue. In the end Joe Hull in Division 2 was the lucky(!) winner of a new hip and enough prize money to buy a crutch with 38 points. George Crabbe didn't want yet another new hip and was happy to take second place with 37 points. Roger Gratton and Jim Enright had to content themselves with more painkillers with 36 points with the stronger ones going to Roger with a BB9. John Hooper was fifth with 35 with a BB9 keeping him ahead of David Moss also on 35. Graham Jones took the final prize place in Division 2 limping home with 34 points.
In Division1 Paul Fricker lead the way with 38 points missing out to Joe Hull for the trophy due to an inferior back nine. Second was Graham Pateman with 36 and a bb9 over Richard Tomkins. Jim Kenshole was 4th with 34 with countback pushing Quin Payne-Cook also with 34 into 5th spot. Ian Pring picked up the final prize in Division 1 with 34 points.
Those who were less successful no doubt blamed their various ailments for their failings and will probably join the early queues at their respective health centres in the morning.
Next week sees the ever popular Seniors Poultry Stableford when no doubt another large field will be hoping for a free lunch. Entry on the PSI, pro shop or on-line.
Friday 14th October - Friendly Away to Saunton - Andrew Chandler reports:
The last match of the season took place as usual at Saunton. The 7 Crediton pairs all arrived in good time for a snack and ample time for the mental preparation for the challenge ahead.
Surely this year we could turn a home win of 5 1/2 -1/1/2 into an overall victory? Well apart from Ian Pring and Bill Dick, failure was the name of the game. The weather was perfect, the condition of the East Course, perfect, but the golf..........Saunton won 6-1.
However, we enjoyed superb hospitality and a lovely fish and chip supper before we went on our way reflecting on what might have been. Next year it WILL be a different result!!
Friday 14 October - Rollup – John Cann reports:
The early birds had declared UDI and 'done their own thing' which left 16 to play an alternative format of 4BBB. A welcome appearance of Tom Berry in the clubhouse complete with frozen shoulder elicited a number of second opinions from senior colleagues. As their primary expertise was in joint replacement and their only experience of something frozen being ice cream and fish fingers I'm sure Tom will stick with the medical profession for the cure.
The course was reduced to 15 holes with 5, 6 and 7 out of play due to ongoing work by Western Power removing some trees close to power lines. Your reporter, playing with Chris Vercoe managed the lowest score of the day on 28 but their day was brightened playing with Laurie Taylor and Brian Williams who took the honours with a very good score of 40 points (17 on the front & 23 on the back). Brian's two from the greenside bunker on the third set the scene for their day. In second place Paul Willcocks and George Crabbe would have been forgiven for thinking that their 39 points (16 on the front & 23 on the back) would be good enough to win. But looking at the cards Laurie's birdy on the sixteenth to George's seven was good enough to decide the outcome.
Wednesday 12th October - Rollup - Bill Dick Reports:
I arranged both draws but because I was playing with the Ladies I was unable to participate in the roll up. That left 33 rollers. 4 prizes.
Richard Nicholls , Wally Phillips and Frank Greenwood came 4th with 73 points. 3rd with 76 points were Laurie Taylor, Colin Parr and John Hooper. Coming 2nd with 78 points were Cyril Dawes, Ed Copp and Tom Pettifer. The winners by 5 points (83 for those with poor arithmetic) were Herbie Smith, R. Tomkins and I. Pring. Herbie was ordained Captain as he gave good indications on the 1st tee to having a card in his back pocket however it turned out that this sharp movement of hand was only a check on whether his wallet was still there. So when on the second tee without a card between the three, Herbie used his newly elected power to delegate Richard as the runner. Well done Richard for this and your round.
The balls went to R Phillips, R Eagles and Mike Conder with 61 points.
Wednesday 12th October - Lin Ashman Trophy - Andrew Chandler reports:
The annual match against the Ladies took place in glorious October weather with next to perfect conditions. Pin positions left over from the Greenkeepers Revenge provided some interesting moments, but the fact that 4 out of 6 matches went to the 18th showed it was a very close fought match. In the end the Seniors won by 4 to 2 but the score does not properly reflect the closeness of the battle. In the usual way the teams sat down to the customary meal, this time having a trip down memory lane as it was prepared by Jane. The men generally went for the steak and ale pie and the Ladies a hearty seafood pie. Magnificent!! Roll on next year's event.
Monday 10th October - The Mick Thompson Trophy – John Essery reports:
A lovely Autumn day to be enjoyed by all competitors but clearly the greenkeepers had not read the script and either they were not convinced they had achieved sufficient revenge on the members on Saturday or they were giving the senior members a chance to practice for their revenge in February. Whatever the pin positions on some holes were difficult to say the least, I suppose it was the same for everyone, that is if you slid past the hole, even a lip out on 16 left the next shot from off the green for more than one player.
However not all competitors had difficulty in tackling the conditions especially the winner of the trophy, the 18 handicapper John Cann now 17 with 41 points and Richard Tomkins (40) first and second in Division 1. Paul Fricker (37) Cyril Dawes (36) and Wally Phillips (35) took the minor honours.
In Division 2 David Cousins was the winner with 39 points followed by the in form Joe Hull (38) Colin Cole (38) Herbie Smith (35) David Moss (34) and Rick Eidam (33).
The day started badly for one of our regulars, the Bow Belle, whose ball was on the 1st green for three but it had come to rest on the line of a fellow competitor and unknown to its owner had been marked and thrown to one side. On arrival on the green and without hesitation the ball was dispatched towards the hole whereupon his second fellow competitor broke the news "Roger your ball was over there where the marker is". The result a two shot penalty for playing his own ball (this time), but from the wrong place. Yet another case of the rules getting in the way of a good game of golf.
Generally not a high scoring day with just 40% of the field of 75 recording more than 30 points and just seven competitors achieving par or better.
Friday October 7th - Rollup – Graham Thompson Reports :
The first draw attracted 11 members but Eric Parkes was leaned on to make it 12 and avoid two 4-balls. This unfortunately left 13 present for the second draw and provided Cyril with three of the club's old reprobates (your reporter, smokin' Roger and the effervescent Stanley) as his partners in a 4-ball. The late arrival of Dennis (oh, you guessed) gave Cyril a new set of partners but still left him in a 4-ball. The card suggests that this change did little to improve his enjoyment of the game.
The first of the day's three prizes was won by Colin Cole, Dave Vowden and Wally Phillips with 79 points. Also with 79 points but one fewer on the back nine (39) were Andy Gibson, Mike Hammond and Eric Parkes. This earned them the second prize ahead of Peter Caston, Danny Enright and Nigel Evans one point further back.
The final 4-ball of the day (Stan Gibson, Roger Phillips, Graham Thompson and Dennis Wright) clearly enjoyed their golf despite their poor score as they spent much longer out on the course than any of their opponents. It was of course their lack of accuracy (and distance) that earned them their reward for a score of just 70 points. One of the team was sufficiently contrite to buy drinks (well, tea or coffee) for those in his team prepared to limit their demands to this simple fare. It was a pity that he had to sit outside on his own to drink his.
Monday 3rd October - Medal Winners & Rollup - Andrew Chandler reports:
Medal Winners Cup play off: Seven Seniors were able to take part in the play off. This was a medal format off the White Tees on a day where there was a bit of a breeze but otherwise conditions were pretty good. After all the players had eventually finished the winner was declared as Alan Draper who recorded a very respectable net 73 which was one better than the runner up Peter Johnson. Well done Alan.
Rollup: 37 players turned out for the roll up which had the customary 2 draws. As is also the custom the winners were based on points achieved and not by Division. To the writers surprise he managed 6th place with 34 points behind Herbie Smith 5th, John Bundfass 4th, Stan Gibson 3rd, Barry Lias 2nd and Bob Rippon 1st with 43 points. Bob's handicap has now come down to 19 from 22, and Stan Gibson and Barry Lias have each lost a shot.
Friday 30th September - Rollup – Graham Thompson Reports:
September is clearly a peak month for our Seniors' holidays, medical treatments, gardening or just plain lethargy as the numbers attending our roll-ups continued at a relatively low level. The arrival of a team of ladies from Teign Valley raised the tone of the conversation between the two draws and on returning post-match they declared the course to be "challenging". Many of the Seniors would agree with that sentiment although the word chosen might have been different. The 24 members who entered today's competition might reasonably have expected eight 3-balls; but Herbie's slightly delayed arrival left 11 in the first draw and boosted the second to 13. In contrast (and unexpectedly) Dennis arrived early enough to bring his clubs down from the car park before the draw. More usually, he leaves his clubs in the car before drawing No. 1 and then struggling to get prepared for the tee. Today, he drew no.13 and had plenty of time to organise himself and his refreshments. A glance at his card suggests that his traditional timekeeping might have been a better option.
The first prize was won by Ed Copp, Bill Dick and Tom Pettifer with 82 points. They were followed in second place by one of the early 4-balls, John Bundfus, Peter Caston, Danny Enright and Brian Mears with 79 points. It took a countback to the back 6 before the award of the balls could be decided, but a blob on the 14th helped Colin Cole, George Crabbe, Ian Pring and Dennis Wright to take precedence with 72 points.
Wednesday 28th September - Rollup - Bill Dick Reports:
A match at RND reduced our numbers. On a lovely Autumn day 10 were gathered for the early draw somewhat earlier than usual because of a Society booking at 10.00. For some reason all 3 teams had a difficult day. One group scored 24 points after 8 holes then decided to N.R. The other threesome scored 56 points after 17 holes and also decided to N.R. At least the fourball put in a card even if they only scored 59 points. I am not sure why these teams had problems they seemed to have a clear path and it seemed a near perfect day for golf.
The second draw took place slightly later than usual which with hindsight should have been delayed further. I was told that there were 15 in the Society playing in 5 threes. This was wrong as it seemed it was 3 fours and a three and they were slow. There were 15 of us in 5 threes. the last 3 out were clearly not happy so that 2 of them quit after 9 holes for which their score was 30. No names but initials R.E. and R. B. This left Trevor to join up with the 3 in front as an ex officio member. Overall scores were lowish. Indeed it would have been a tight contest but for one team. It was a bit like an early heat for the 100 metres which included Usain Bolt.
3 prizes on offer. 2 teams scored 72 points. Tom Pettifer, Dennis Wright and Eric Parkes getting third place by virtue of their back 9. Herbie Smith, John Hooper and Chris Vercoe who also scored 72 getting the balls because all the rest had gone. Second with 73 were Colin Cole, Ed Copp and Wally Phillips. Winning with 81 points were Bill Dick, Ken (come back soon, as long as you are in my team) Galvin and Cyril (never mind it is only a game) Dawes. The pace of play did not seem to bother that happy band of brothers. Trevor also received a ball as compensation for his teammates abandoning him.
Monday 26th September - David Moss Vase - Eric Parkes Reports:
Due to torrential rain, there were only 24 players in Division 1 and 20 in Division 2 who took part in the Competition.
A large number did turn up at the Club but elected not to play due to the very poor weather conditions. Those that did play from an early start took the brunt of it and found conditions most difficult. The weather did improve towards mid day but it was still heavy going. Scoring in the majority of cases
was tough due to there being so little run on the ball plus the pace on the greens was found to be variable.
The result of the Competition turned out to be a very hard fought contest with the trophy being decided by a better back nine of one shot.
The Prize winners of Division 1 First was Cyril Dawes with a score of 39 points Second Peter Russell with 38 points, Third with 36 points was Graham Pateman fourth was David Coren with 35 points..
The Prize winners of Division 2 First and winner of the Trophy was Richard Wilson with a score of 39 points, Second Vaughan Gallavan with 36 points, Third John Hooper with 34 points. There were eight 2,s scored worth £2.75 each.
Monday 19th - 23rd September - Monmouth Tour - Ian Pring Reports: Tour Photos
All 15 arrived safely at Newport Gc a new venue to the tour. After a wet under foot start to the round the day brightened and we all struggled with the fast very undulating greens. Day 2 was The Rolls of Monmouth an absolute gem of a golf course. Some of our troop however are not so enamoured by this venue and Dennis commenced his not uncommon throwing display throughout the entire estate. The many features of stone bridges, statues, lilied ponds and shrubbery from all over the world made his length of throw adequate to prevent recovery by his team players. Day 3 Ross on Wye Gc with it's very wooded & tighter fairways gave a good challenge again although it also gave heavy rain for the last few holes for some.
Wednesday evening was Italian night when 9 attended a local restaurant rather than Weatherspoons. We had excellent food, good service and wine and more wine and ask Bill to tell you his Fishmonger joke.
Thursday was the day off and 8 attended Monmouth Gc to have a repeat performance of last years great day out at the Prettiest Course in Wales if not the world. The very attractive Hole 14 did not pass without the annual hilarity at this location. Last year a chunk into the pond resulted in a violent beating for one very nervous golf bag & trolley which after many such traumas decided to throw itself into the pond followed by the angry golfer who had to sprint to save it. There has since been a divorce and this bag now languishes unloved but safe at home. This year it was our Rickay & Bill that chunked and sliced and chunked again into same pond but so far there has been no report of any one being attacked. The course being very hilly provides stunning views over to the Wye valley and all around including a dam good work out. So knackered were we that we couldn't make it outside into the sun for our pints instead remaining in the cooler familiar darkness of the club room.
Friday soon comes and so the annual navigation test to Dewstow Gc a test totally failed by Pring and Taylor just arriving in time having been to Chepstow race course and some where not on the map. The Golf course is currently under review for possible closure but is still very challenging although a little under managed.
Huge gratitude to Tom for another fantastic week in Wales and for winning this year.
Results for the week: 1st Tom Pettifer..2nd Rick Eidam..3rd David Jordan..4th Bill Dick..5th Laurie Taylor.
Thursday 22nd September - Friendly Match v Sidmouth Away - Andrew Chandler reports:
Whilst many Seniors were living it up in Wales, some of us left behind had the delights of Sidmouth to savor instead. A beautiful sunny day meant that the Course looked glorious, the views were magnificent but the old problem of local knowledge surfaced again. (yes all puts DO go towards the sea).
The result was 4-2 to Sidmouth and mention must be made of Jim and Danny Enwright together with David Moss and Chris Shaw who were the only pairs to record a victory for Crediton. The hosts were unusually generous in moving the nearest the pin hole for the visitors after all of them failed to find the dance floor. The nearest the pin was moved to an adjoining par three much to the annoyance of the Captain who had not been consulted. Fortunately Crediton understood the etiquette and made sure that they all missed the green again!! We finished off with a satisfying plate of stew with a piece of pastry perched on top (locally described as a pie) and the usual pleasantries. A good day enjoyed by all.
Monday 19th September - Grandads Trophy - John Essery reports:
The grand-dads were well represented in the 62 competitors who turned out to play for the prize pot. Unusually there were more Division 1 players (35) than those in Division 2 (27). The cup could only be won by a qualified Grand-dad so Ollie was conducting the interviews when members booked-in, the quality of the questioning ensured we had an accurate record avoiding the need for Birth Certificates and DNA checks. However we did have the usual, "How many have you got" questions amongst the "breeders" but on this occasion one grand child was enough.
Whilst we had no problem identifying the Grand-dads we did have two players with "non-competitive handicaps". They were both contacted before the event and advised that whilst they could play they could not win a prize other than that for a two which they understood and we were please to accept and welcome, Bernie Blatchford and Mel Rice. Mel got the two required on the 13th to show a small profit on the day and with 45 points, from his lapsed 22 handicap would have won Division 2. Instead he will now play off 19 with one qualifying card to come. Bernie was not quite on the same form but he too has just one qualifying card to become "competitive" We hope to see more of them both in future competitions.
The scores in Divison 2 could not match those of Division 1 nevertheless they were all Par or better, David Cousins and George Crabbe returned scores of 36 and were 3rd and 4th in that order Barry Lias (37) was second and Graham Jones the winner of the division with 38 points.
Forty points was required to get a prize in Division 1 and there were three of those finishing 3rd. Brian Williams, 4th Robert Dobson and 5th Gerry Hodder. The runner up who after the interview by Ollie was seen climbing the stairs muttering am I a Grand-dad?, I am a Grand-dad, a Step Grand-dad and a surrogate Grand-dad was Mike Palmer with 42 points. But the winner of Division 1 and the Grand-dads trophy is a man obviously high in ability but not in stature and who is short on technical skill but the little chap will enjoy this report read to him tonight as his bed time story by his patient wife Sandra. Taking the prize the former 13 handicapper, now 11, 2015 Seniors Golfer of the Year Colin Parr . Well done Colin on an excellent round of 74 gross with a level par (35) back 9 and a stableford score of 45 points.
Friday 16th September - East Devon friendly at Home - Bill Dick Reports:
A sense of impending doom settled over the Crediton men when word filtered through that the Captain would be missing through illness. However the mood lifted when the Vice Captain took over the reins.
Playing with Paul Fricker we returned a solid win on the 17th green. Paul received 5 strokes and made full use of them. We duly won each of the holes on which Paul received a stroke. The 2nd game featured the two Jakes, Essery and Cann, who recorded a comfortable win finishing on the 14th. Another comfortable win was recorded by Dave Jordan and Dennis Wright, both long hitters,who won 4&3. They were receiving 11 and 7 shots respectively and it would be truly exceptional if our pair could be beaten at Crediton with that advantage. Closer wins were recorded by Ian Pring and Colin Cole, who beat their Captain, and Andrew Gilg and Herbie Smith who closed out their matches on the 17th. Graham Cox, playing with Rick Eidam, had a chance to make it a clean sweep but his putt on 18 slipped by the hole. This gave East Devon their only entry on the scoreboard a half point.
Dennis Wright won the nearest the pin for Crediton. Duncan Goldsworthy did the business for East Devon. I might have won the wine if my tee shot had not missed the target by some 45 degrees, nearer the 18th tee than the 15th green.
Rick collected the money for the meal and managed to go home afterwards without any of it.
Friday September 16th -Rollup – Graham Thompson Reports:
Just 18 of us rolled up this morning on a cool and blustery day. The organiser added a little spice to the proceedings by calling a "yellow ball" competition. Most of the assembled seniors appeared to understand the rules although at least one member spent some time looking for his yellow ball on a "yellow ball" hole before realising that he was actually playing a white one. Elsewhere the pressure of a "yellow ball" hole caused even some of our better players to trip up.
As a result, 78 points was enough to win the first of the three prizes on offer with Jim Enright, Steve Gidley and Graham Cridland earning this with a better back 6 from Danny Enright, Brian Mears and Andy Scoots. Third prize was won by Roger Field, Wally Phillips and Chris Vercoe with 73 points. 70 points was not the day's lowest score, that belonged to Nigel Evans, Simon Mannell and Richard Wilson with 68 points, but it was the lowest score from a team still in the clubhouse allowing Tom Berry, Graham Thompson and Paul Willcocks to claim the award. The quality of the balls drawn from the bag was not great, but quality of their golf deserved nothing better.
Wednesday 14th September - Rollup - Bill Dick Reports:
Another nice day, another low turnout. Thank you Lord Dunk.
24 of us 3 prizes.
The balls and the slowest round of the day went to Chris Vercoe,Roger Phillips and Denis Wright with 62 points.
3rd with 78 points were Cyril Dawes, Dave Vowden and Richard Eagles.
2nd with 79 were Jim and Danny Enright and Richard Wilson.
Winning with 81 points were the two Colins Parr and Cole and Wally Phillips.Mr Parr's 2 at the 6th which was worth 5 points did them no harm at all.
My team lost out on a prize by one shot because neither of my team mates could hole their putt for a two on 18. Thanks guys. Never mind what I scored there. None of your business.
Monday September 12th - Seniors Roll up Qualifier - Graham Cox Reports:
The threat of rain and the away match at Dainton limited the turnout, but nevertheless a hardy group of 36 took on the humid conditions, with the course in excellent condition. Ed Copp obviously had an extra Shredded Wheat for breakfast and tore up the course with a very
impressive 43, 4 points clear of second placed Colin Parr on 39. Colin was himself busy giving a golf masterclass on the par 3s. He birdied 3 of them, and just missed making it 4 "twos" (obviously some putting practice required).
In all there were 10 "twos" - and of course Ed got one.
I bet Mr Essery is kicking himself for not taking a couple of stars with him to Dainton.
The result of Ed's mastery of the course is that his playing handicap has been reduced to 16. On the other end of the scale Quintin Payne-Cook obviously felt uncomfortable playing with the Seniors on a single figure handicap and has made the necessary adjustment (new handicap 10). Overall some good golf was played, with 30 players scoring 30 or over.
Monday September 12th - Friendly Match @ Dainton Park – John Essery reports.
The Crediton Seniors fielded the same side that drew 3 – 3 in the home fixture on 24th August but unfortunately we were unable to get a victory or come to that even a draw, we lost 4 – 2. Alan Draper and Roger Gratton were in fine form and were the only winners 4 & 3 both players reported rounds of 63 nett. The pairs of Bill Dick and Eric Parkes and Colin Cole and Richard Burston managed halves but the other three teams were all beaten. The Dainton Captain made use of his shot on the last with a five for four and whilst the Captain and partner both had putts for the par needed to half the match neither were made with the Captain disappointed to miss from four feet. The course was excellent and equalled by the Mediterranean pork dish. Nearest the pin on the 15th was John Essery the home side had to wait for the last pair before Roger Stobbart made the green. There are now three remaining friendly matches East Devon (H) and Sidmouth and Saunton (A) which will complete the 2016 season.
Sunday 11th September - Devon PGA Pro Am at DGC - John Essery reports:
Two of our well known members were competing in the four man Stableford team event, Steve Lay playing with Professional David Sheppard of David Sheppard Golf and Tom Berry playing with Staddon Heights Professional Shaun Ashley. Running in tandem with the team event was the Individual Pro's Medal in which both Barry Austin and Devon Greenslade were competing. The winner of the Pro's event was Paul Hendriksen from Ivybridge GC with a Medal score of 65 which equals the course record held by Barry Austin, and Adam Frayne from Yelverton. Joint runner-up was former Crediton trainee pro Chris Gill now at Newquay and James Ruth from China Fleet who has competed in 20 European Tour events since 2009. Barry shot a level par 70 to finish in 5th place whilst Devon who was one under par after 10 holes faded to finish 8 over.
Steve Lay and his team were a creditable 4th in the team event with 83 points, Tom Berry and his team returned a card of 75. The full results can be accessed on this link
Also representing the "seniors" was John Essery who was called in at short notice to act as the "Starter" and make the announcements introducing the 92 competitors.
Friday September 9th - Roll-up – Graham Thompson Reports:
The course and the greens staff no doubt welcomed the showers that came and went throughout today's competition, but the members were less happy. Nonetheless the 27 of us that entered the roll-up found the golfing conditions still favourable with plenty of run on the ball and rather more receptive greens than we have met in recent weeks. David Jordan, Ian Pring and David Vowden made the most of these conditions recording a score of 86 points to take the first of the four prizes on offer. They were followed in second place by Danny Enright, Brian Mears and Richard Wilson with 84 points. Three teams scored 82 points to compete for the two remaining prizes. A back nine of 38 meant that Jim Enright, Nigel Evans and Joe Lawrence came away empty handed with the other two teams both scoring 44 points on the back nine. A 31 point last 6 earned the third prize for George Crabbe, Graham Thompson and Dennis Wright ahead of Peter Caston, Paul Dorothy and Paul Fricker with just one point fewer.
Andy Gibson and Frank Greenwood recorded the day's lowest score mainly as a result of playing throughout as a 2-ball for reasons not yet ascertained by your reporter. (There were 12 in the first draw.) They both left the clubhouse early leaving the balls to be collected by Tom Berry, Roger Field and John Veale with a normally respectable 73 points.
Wednesday 7th September - Roll Up - Bill Dick Reports:
Another nice day and another low turnout with 13 in each draw, which meant only 3 prizes.
3rd with 80 points (42 on back 9) Dave Jordan,Dave Vowden and Richard Eagles.
2nd with 81 points Brian Mears, Dave Conabeare and Peter Dewhurst.
Winning with 82 points the four ball of John Cann, Keith Napper, Keith Ham and Laurie Taylor.
Bringing up the rear with 70 points and collecting the balls Cyril Dawes, Roger Phillips and John Veale.
Tuesday 6th September - Teignmouth Away - Andrew Chandler reports:
This was a match somewhat doomed from the start when we were informed that Teignmouth could not get a full team of 6 pairs together. Their Vice Captain, Malcolm Tester, and I go back a long time so he was suitably embarrassed.
However the 5 pairs from Crediton duly arrived to find 3 players missing from Teignmouth. 2 eventually appeared leaving Malcolm to gallantly play Alan Draper and myself alone. Alan had a day on top form and I would have been better off waiting in the bar as he and Malcolm traded shots on the course. A lovely day with Teignmouth inching home 3/2, but failing to catch the 5/1 deficit from Crediton. Overall, very satisfactory.
Afterwards a hearty chicken pie was enjoyed by all. (portions being so large I suspect as they had catered for 24!!!!)
Monday 5 September - September Medal – John Cann reports:
A warm, humid day set the scene for the September medal. There were 64 entrants comprising 35 in division 1 and 29 in division 2 but not everyone enjoyed the day with 15 failing to submit a card.
Undoubtedly the round of the day came from Joe Hull in division 2 who carded a nett 64 off his playing handicap of 23 which as a result has been reduced to 20. In second place was Peter Bryan continuing his recent run of form with 69. Paul Dorothy edged out Jim Enright for third and fourth respectively both on 70 decided by scores on the back nine.
In division 1 Alan Willey took the honours with 68 beating Mike Palmer into second also with 68. Third was John Bundfuss, fourth Colin Parr and fifth Peter Caston all with 70 being separated by their back nine score.
There were eight twos – one each for David Coren, Alan Draper, Jim Enright, Martin Howe, Joe Hull, Brian Kelly, Alan Willey and Dennis Wright.
Friday September 2nd - Roll up @ Torquay G C – Graham Thompson Reports:
With Jewsons' Golf Day occupying the Downes course all day, 15 of us visited Torquay in place of our regular Friday Roll-up. We played the usual teams of three with two scores to count off full handicap; but the organiser seeded the teams for the draw so that each contained one low-handicapper, one medium and one high-handicapper. The intention was to further level the playing field, but the scores suggested otherwise. The organiser earned the grateful thanks of his two partners, David Jordan and Ray Williams by first decreeing that the prize money would be doubled to £2.00 per head and then playing a modest part in securing his team the first prize with a score of 85 points. This could and should have been several points higher had two of the team not consistently let Ray down by failing to hole – or sometimes even get close with - short putts. All must have been forgiven however as Ray bough the post-match teas. George Crabbe, Jim Downing and Chris Vercoe took the second (and only other) prize with 80 points. A sleeve of new Srixon AD333 balls awaited the lowest scoring team and was convincingly won by Tom Berry, Richard Eagles and Mike Mullarkey with 67 points. Tom is known to favour the Srixon balls on offer but the nature of the award was not announced until after the scores had been posted. We won't speculate what their score might have been without Richard's local knowledge. Perhaps he kept this to himself.
Thursday September 1st - Friendly @ Okehampton - Bill Dick Reports:
On a pleasant late summers afternoon 14 of us hit the A30 to do friendly battle with what turned out to be 14 seniors from Okehampton as they were able to find two players at the eleventh hour to make up their team.
Games 6 and 7 both had early finishes with comfortable wins, one for each side. However that was not the pattern with the other matches as 4 of them went to the eighteenth hole with three of them being tied.
The other game concluded on the 17th. The tight nature of these games was reflected in the overall match score. 2 wins apiece and 3 drawn matches to give overall score of 3.5 to 3.5.
Nearest the pin winners were Denis Wright and Chris Askew for Okehampton.
The course was in very good condition with the greens, after recent rain, very slightly easier than in previous visits. The hospitality and catering was outstanding with a special mention for the after match meal with 2 choices and a desert. All in all it was a very enjoyable afternoon.
Wednesday 31st August – Roll up – Bill Dick Report:
13 early and 15 later gave us 28 players and 4 prizes.
Some problems with score cards meant adjustments were required to 2 cards. One made a difference, one did not.
4th with 81 were Roger Phillips, Mike Conder and Dave Jordan.3rd with 82 were Ray Wilson, Brian Mears and Peter Caston.2nd with 84 came Bob Rippon, Jim Enright and John Bundfuss. The winners were Cyril Dawes, Brian Williams and Colin Parr who scored 85 points.
The lowest score of 66 went to the early bird 4 ball. They had 3 players with a 28 handicap. No surprise that they struggled playing with 3/4s handicap.
Although Elvis had left the building, Messers Field, Vowden and Eagles had not, they collected the balls with 68 points.
Bank Holiday Monday 29th August - Roll Up - Bill Dick Reports:
A lovely summers day saw 9 early birds do their own thing.
At 10.15 there were 14 of us. Consensus was to play a 4BBB. The first two to play on their own.
It was agreed beforehand that there would be 3 prizes.Coming in third with 43 points were Paul Fricker and Bill Dick. It was mostly Paul who scored. He did not get too much help from his partner especially on the back 9.
Second with 44 points were Dennis Wright and Tom Berry. However out in front by a distance were Alan Draper and Paul Willcocks with 48 points. 4 gross birdies did them no harm at all.
Bringing up the rear with 36 points were Keith Ham and Stan Gibson but they got nothing for it. Monday is like a eunuch- no balls.
Friday August 26th - Roll up – Graham Thompson Reports:
There were 27 members rolling up for today's competition with the two draws separated by a society booking. Luck was with us at least at that stage with both draws containing only 3-balls. The first of the four prizes was won by Jim Enright, Tom O'Connor and Robin Tooze with 82 points, 4 points clear of the second placed team of Paul Fricker, Stan Gibson (who was still singing as he completed his post-match shower) and David Warren. Also with 78 points, but only 33 on the back nine, were Nigel Evans, Joe Lawrence and Andy Scoots. This left the final prize for Roger Phillips, Trevor Stoneman and David Vowden with 77 points. The team with the lowest score graciously stayed for the award of the balls, although in practice they had little choice. 71 points earned the privilege for John Cann, Keith Ham and Graham Thompson.
Wednesday August 24th - Roll-up competition – Graham Thompson Reports:
Just 20 members enrolled for the day's roll-up competition with friendly matches and holidays continuing to take priority for many of our regulars. The two 4-balls (one from each of the two draws) came in the first and last places with Tom Berry, Cyril Dawes, Mike Conder and Ian Pring claiming first prize with 80 points. Their success was clearly too much for their Cornish member who, it was reported, remembered to take off one of his socks before showering, but not the other. Peter Caston, Joe Lawrence and Bob Rippon took second prize with 79 points leaving John Hooper, Roger Phillips and Herbie Smith to take the third and final prize one point further back with 78 points. The early draw 4-ball failed to stay long enough to collect their deserved award of the balls with 69 points despite a 44 point front nine. This left your reporter once again to receive the award along with partners Paul Fricker and David Vowden. Paul at least drew a Srixon Soft feel for coming in on 14 of the 18 holes. His partners got what they deserved.
Runaway trollies featured regularly in our early reports of these competitions but I think we can claim that although our golf has not improved much (if at all) our trolley control has. Despite this, we were treated to the sight of Keith Ham chasing and catching his trolley on its way down from the 17th tee. Keith deserves our congratulations for his speed, albeit downhill, so late in the game. He followed this by scoring his team's only point on that hole. We were impressed.
Wednesday 24th August - Dainton Park Home - John Essery reports:
Our visitors from Dainton Park proved to be hard nuts to crack on our own course as the 3 - 3 result proved.. The three Crediton wins were wide margin victories whereas the three defeats were closer run matches which hopefully will keep us in with a chance on the away fixture on 12 September. The conditions were good with the course in excellent shape with plenty of run on the fairways for those of us who are short hitters. Crediton players were, in most cases, giving the shots which could make the away leg even more difficult but there are good signs we will be equal to the challenge. Getting on the green on the 15th was not easy for all except Bill Dick whose shot to 9m and 5cm won him the wine for the home side, there were a few hard luck stories for Dainton but their bottle remains with the Treasurer. A good match with a friendly result maintains the good relations we enjoy with Dainton Park.
Tuesday 23rd August - Stan Setter Salver - Paul Willcocks Reports:
Once again the Seniors hosted the annual Stan Setter Salver; and invitation event instigated by Stan, played for by the 14 clubs with whom we have friendly matches, plus Downes Crediton who, incidentally, are not permitted to win the Salver but may take the prizes on offer should they finish in the top three.
The 3-man team medal format with one score to count at each hole produced some excellent returns on a glorious summer's day with a lively breeze cooling the temperature and requiring sound course management.
Dainton Park produced the best golf of the day with a terrific net score of 63 which enabled them to take home the Salver and umpteen bottles of wine. Both Tiverton and Saunton (2015 winners) were close behind with 64 but Tiverton's back nine of 30 gave them second place ahead of Saunton (back nine of 34).
"Nearest-the Gin" on the 6th hole was won by Charlie Kerslake of East Devon and nearest the pin on the par-3 15th was won by Graham Hull of Dainton Park.
Eight 2's were recorded and perhaps the best of them came on the long par-3 18th when David Bogue of Bigbury drew applause from those sunning themselves on the the clubhouse balcony by holing his putt after a fine tee shot to claim a share of the sweep.
The competition was followed by a delightful 3-course dinner and prize presentation by the Seniors' Captain.
Monday 22nd August - Mike Dunk & Phil Ollis Trophies - Paul Willcocks reports:
With two trophies on offer today it was no surprise that no fewer than 79 players set off on a warm summer's day to try their luck on a course that was running a little slower after the recent rain. The Phil Ollis Trophy for handicaps up to and including 19 was won by Martin Rutley with a superb 42 points, 3 clear of Dennis Wright in second place with 39. The pecking order for the remaining prize winners was as follows:- Peter Caston, Peter Russell, and David Lee all on 39 with (countback determining the placings) and Robert Dobson with 38.
The Mike Dunk Trophy for handicaps 20 and above went to Bob Rippon on 39 points staying ahead of Roger Gratton also on 39 by virtue of a BB9. Third place was claimed by Paul Dorothy on 38 followed by Danny Enright and John Dean both on 37 with countback again being used to separate them.
The turnout was one of the highest of the summer season with several pairs of joints passing as knees being exposed to the elements perhaps for the first time in a long while. There are no reports of any casualties despite the obvious distractions resulting from such strange revelations. Well that's all part of the fun of seniors' golf. Thanks for a great day everyone.
Friday August 19th - Roll up – Graham Thompson Reports:
The reduced number playing today was no doubt due to the combination of a poor weather forecast and some fixture congestion as the summer friendly matches reach their conclusion. Those absent missed a fine day's golf. The very light rain that fell on us intermittently over the opening holes was hardly enough to wet the ground and the sunshine and cloud that followed needed the freshening wind to keep us reasonably cool.
With only 4 members arriving for the first draw and 14 for the second, only five teams competed for three prizes with two 3-balls and three 4-balls. A 4-ball came first and last with David Jordan, Herbie Smith, Richard Tomkins and Chris Vercoe taking first prize with 85 points. In second place 2 points back was the other 4-ball with Tom Berry, Bill Dick, Nigel Evans and Wally Phillips. The third and last prize was won by Cyril Dawes, Colin Parr and David Vowden with 80 points. One point further back with 79 points despite a 44 point back nine were Stan Gibson, Keith Ham and Graham Thompson. This made them the highest scoring team to be awarded the balls (if your reporter's memory is correct) as the 4–ball from the first draw who scored 75 points did not stay long enough to claim the award.
Wedneday 17th August- Roll up - Bill Dick Reports:
A match at East Devon and pentathlons kept the number of rollers down to 24-12 in each draw.
Despite the hard and fast course and the tricky pin positions scoring was pretty good.
However there were only 3 prizes.
Jim Downing, Herbie Smith and Paul Willcocks scored 85 points but that only got them 3rd place.
Peter Caston, Nigel Evans and Mike Hammond scored 88 points, a total that would comfortably have won most recent roll ups, which only got them second place.
The winners with 91 points were Wally Phillips, Tom Berry and Bill Dick. Theirs was a real team effort but it did not do them any harm that the last named scored 11 points on his 3 double shot holes.
This contrasted with Messers Ham and Hooper who all did not take advantage of the extra shot they picked up on Monday. Mr Hooper shot a six on the 13th which with his two shots is worth a point, even if a recent golfer of the year thinks it is worth 2 points. Keith's extra shot came on 15 but he, like his team mates did not require the marker to enter any number for that hole.
The second lowest score of the day was 72 points by Keith Ham, Cyril Dawes and Richard Eagles. They each collected a brand new ProV1 or something like it.
Friday 9th August – Tavistock Roll up – Graham Thompson Reports:
An organisational glitch (probably another Senior Moment) brought 19 of us to Tavistock Golf Club to avoid the partial course closure at Crediton. Five 3-balls were followed by a 4-ball in excellent golfing weather with, for Tavistock, a fairly gentle if sometimes capricious wind. The organiser decreed a Texas Scramble played off scratch but seeded the draw with one low handicapper, one medium and one high handicapper in each team. The 4-ball had the benefit of an additional high handicapper. The organiser might have decreed that the extra player should have brought a small penalty – perhaps 2 shots – for the 4-ball but decided to leave it as scratch for all. In the end, this decision hardly mattered as the 4-ball of Ian Pring, Bill Dick, Keith Napper and Stan Gibson swept to victory by 6 shots with a round of 67. Tom Berry, David Vowden and Roger Phillips took the second prize with a round of 73 followed by Paul Fricker, David Jordan and Mike Mullarkey with 75. The organiser won the balls accompanied by Laurie Taylor and George Crabbe with 78 after failing to birdie any of the 18 holes. It was no surprise that this feat was rewarded by an unusually good quality set of balls with a sleeve of three Srixon AD333s the only ones in the bag. That this last team struggled a bit is self-evident, but the team captain made it harder for himself by adding a further challenge spending a great deal of time on several occasions with one hand in his pocket trying (he explained) to extricate his ball marker.
The sight of David Vowden and Tom Berry lying prone on the ground on the 11th green caused the following team some concern particularly as it would not have been the first time that one of our senior members had experienced a medical emergency on the Tavistock course. All was well, however, as their partner who was well on his way to the next tee explained that they were trying to retrieve the team pencil that had been dropped down the hole.
Organiser's note
A check on the Gramby scoring system adopted by the club for Texas Scramble competitions was made after the event. Somewhat fortuitously, it revealed that all six teams including the 4-ball would have received 4 shots. Playing all off scratch achieved the same result.
Wednesday 10th August - Roll up - Bill Dick Reports:
There were 15 in the first draw and 12 in the second. Numbers down a bit in part because of the Sidmouth friendly.
Included in the first draw was a visitor from Tiverton. I trust his partners treated him O.K.
4 prizes. Two teams tied on 80 points so with a lower back 9, 4th place went to Richard Eagles, Colin Cole and Tom Berry.
3rd were Peter Caston John Bundfuss and Frank Greenwood.
Two teams tied on 84. 2nd with 43 points on the back 9 were Cyril Dawes, Keith Ham and John Hooper.
With 45 points on the back 9 the winners were Dave Jordan, Dave Warren and Ian Pring. Two of whom were in the squad who erected the fence at the second tee.
The ball "winners who had the second lowest score on the day of 74 which included a front 9 of 43 points (the second best of the day) were Mike Palmer, Bill Dick and Paul Fricker.
It should be noted that of the team's back 9 of 31 points Paul scored 20 of them.
Wednesday 10th August - Friendly v Sidmouth at Home – John Cann Reports:
We welcomed our friends from Sidmouth on an ideal day for playing golf. Early indications were that games were fairly even and feedback around the 14th from pairs 2 and 3 who were one under confirmed a tight match. However, home form prevailed with both pairs fighting back to post a half to be joined with wins by the four other groups meant that DCGC remained undefeated to win the match 5-1.
The nearest the pin element proved too difficult for both teams with only the greens staff pleased that the 15th green was kept clear of golf balls. The Sidmouth captain thanked everyone for the hospitality received and was gracious in defeat at the same time throwing down the challenge for the return fixture hoping for a 6-0 home win.
Monday 8th August - August Medal - Bill Dick Reports:
This took place on a fine summers day. There were 65 competitors of whom 24 did not return a completed scorecard (almost 37%)
29 entrants in Division 1 which allowed 4 prizes. The winner with a net score of 68 was that dapper chap Jim Downing. Second with 70 was Mike Palmer, third with 71 was Brian (Hawkeye) Williams.
Tom Berry rounded of the prizes with a 72 which concluded quite a profitable weekend for Big Tam.
Unusually for a medal the two best scores came in Division 2. That had 36 entrants and 5 prizes. They were -
1st John Warren 66,2nd Brian Johnston 67,3rd Stan Gibson 71,4th Graham Jones 72,5th Danny Enright 72. There were only 3 twos which was good news for Richard Tomkins, Jim Enright and Bill Dick.
Wednesday 3rd August - Roll up - Bill Dick Reports:
On a day that was like most Seniors-bright and breezy- 30 of us turned up to be rolled. 12 early and 18 later.
Only unusual event was the 400 metres hurdles sprint that our Captain took to get from 7th green to the clubhouse gents.
The three ball behind them were only too happy to wait for his return before continuing with their game. They did not mind the delay one little bit.
30 players = 4 prizes.
4th with 79 but with an inferior last 6 were Laurie Taylor, Colin Parr and John Hooper. Also with 79 points in 3rd place were the Grahams- Cox and Cridland with Andy Gibson. We also had a tie for the best score which was 84 points. Losing out on the last 6 were Wally Phillips, Dennis Wright and Paul Willcocks. They would have won the prize for the tidiest card.
This left our afore mentioned Captain Mr Chandler, Dave Jordan and Roger Field as the winners. D. J.'s 2 on 18 tilted things in their favour.
The lowest score on the day was 65 points, but they had left before results were announced. Also among the dearly departed were the teams scoring 74 and 75 points. This left the balls to the team with 76 points who were Cyril Dawes, Roger Phillips and Bill Dick.
Friday July 29th - Roll up - Graham Thompson Reports:
The light showers that started the day quickly faded and 29 members enjoyed a very good day's golf. It looked for a time as though the first draw would consist of a solitary 3-ball accompanied by two 4-balls. However, Andy Scoots arrived just in time to allow all 4-balls. The members entering the second draw were less fortunate with 17 participants. Andy's last minute arrival clearly did nothing to harm his golf and he with Danny and Jim Enright took the first of the four prizes with an excellent 86 points. Graham Cridland, Paul Dorothy and Brian Mears took second place with 83 points ahead of two teams with 81 points. A better back nine gave third prize to Andrew Chandler, Roger Phillips, Wally Phillips and Ian Pring ahead of John Bundfuss, Tom O'Connor and Richard Wilson.
Wednesday 27 July - Roll up - Bill Dick Reports:
On a muggy but overcast day we had 11 in the early draw and 18 in the second draw. The 18 were joined some 6 minutes later by Mr. Wright who had some Reggie Perrin excuse for his tardiness.
This pleased Mr H Smith no end who found himself with two others in a four ball with the little master.
30 players gives 4 prizes. 4th with 80 points were Messers Fricker, Berry and Pring.
3rd with 81 points were J Enright, S Gidley, M Hammond and F Greenwood.
2nd with 82 points were P Caxton, C Chapple and C Vercoe.
However winning with a very good 88 were Laurie Taylor, Jim Downing and Paul Willcocks.
More bad news for the above mentioned four ball was that the bag of balls is still missing. Herbie's cup runneth over.
Monday 25 July - Don McRae Trophy – John Cann reports:
On a day ideally suited for golf 73 competitors (32 in division 1, 41 in division 2) assembled to contest the Don McRae Trophy which is a medal competition played from the yellow tees. Competition was close with 17 golfers matching or better than the CSS of 69.
First place in division 2 and winner of the Don McRae Trophy was Peter Bryan on 66. Two scores of 67 were second and third with Richard Burston edging out John Cann. David Cousins, Colin Cole were fourth and fifth respectively both on 68 separated by the back nine score. Sixth in this division with 69 was John Warren.
In division 2 Richard Tomkins took the honours with 67 beating Brian Kelly also with 67 on the back nine. Third and fourth went to Dave Warren and Hugh Fernyhough respectively on 68 again separated by their back nine scores.
There were 12 twos. Andrew Chandler achieved two with one each going to David Coren, Jim Enright, Steve Gidley, John Hull, Graham Jones, Brian Kelly, Mike Palmer, David Warren, Martin Howe and Richard Tomkins.
Friday July 22nd - Roll up – Graham Thompson Reports:
Just 27 of us entered today's competition despite the continuing good weather. Herbie Smith did the honourable thing and joined the first draw when he learned that there were just 11 of them. Rumours that someone had tempted him by offering to help with his contribution to the prize money were unfounded and clearly malicious. This column would never stoop to help spread such suggestions.
A fine 85 points won first prize for Paul Dorothy, Joe Lawrence and Alan Matthews pushing Paul Fricker, Keith Ham and Dennis Wright into second place with 82 points despite a storming front nine by Dennis. However, Paul's inability to coax or cajole either of his partners into supporting him on the card on both the 14th and 15th kept them away from the top spot. Third prize went to Stan Gibson, Laurie Taylor and Dave Vowden with 80 points while a 78 point total gave the fourth and last prize to Peter Bryan, George Crabbe and Bill Dick.
One of the early groups out managed to lose its card between the wall outside the Pro shop and the changing room. They remembered their total score (80 points) but the absence of a properly completed card left no other option than disqualification.
John Bundfuss, Graham Cox and helpful Herbie Smith might have won the balls for their 67 point total. However, not only did they not stay to qualify for the award but the balls themselves had apparently gone missing. This left Cyril Dawes, Ian Pring and John Veale to suffer the ignominy of earning the award without the compensation of receiving a new ball each. If and when the balls reappear, they will receive their just dues.
Wednesday 20 July - Roll up – John Cann Reports:
The roll up today had 21 starters with the intense heat of the previous two days probably accounting for the absence of a few regulars. With eight forming two four-balls in the early draw and the second draw with 12, three balls were the order of the day for this group. However, the re-hydration process of Guinness and blackcurrant for one of our regulars took longer than anticipated and the late arrival produced a four ball in the last group. This last four ball of John Hopper, Paul Fricker, Tom Berry and Dennis Wright went on to produce the round of the day with a winning score of 84 points. Second place with 81 were Wally Phillips, David Warren and John Cann. One of the early four balls formed by Jim Enright, Nigel Evans, Bob Rippon and Ray Williams took third place with a score of 79 points. The early departure of Dave Conibeare, Brian Mears, Steve Gidley and Tom O'Connor on 70 points allowed Cyril Dawes, Dave Vowden and Richard Eagles with a score of 75 to put their hand in the bag for a consolation ball.
Monday 18 July - Alan Ruddock Trophy - Andrew Chandler reports:
An amazing sunny day with the course looking fantastic. The heat was something of a challenge to one or two but hopefully those that suffered have fully recovered. Very many thanks to Alan Ruddock who presented prizes for nearest the pin and was there supporting us all during the day. The winners of nearest the pins were, 7th, Bill Dick, 9th in two Peter Bryan and 15th Roger Wellaway (prize is in the office). There were only 7 2's from a field of 71 with each one worth £5.07. The full results have been posted in the usual places with Stephen Gidley winning division 1 with a magnificent 43 points and Andrew Chandler with a commendable 40 points winning Div 2.. Neither being over 70 years of age are eligible to win the Alan Ruddock Trophy so this honour after countback went to Stan Gibson. Well done Stan, a very popular winner indeed and a great performance to put in a card of 38 points in the conditions.
Friday July 15th - Roll up - Graham Thompson Reports :
Thirty five members braved the light drizzle that unexpectedly accompanied us for the start of today's roll-up competition, seventeen in the first draw and eighteen in the second. Fortunately, the rain cleared after a few holes and we all returned to the clubhouse after at least a dry back nine. The Lord Dunk match against Saunton that followed us on the course enjoyed dry weather throughout. The early starters had the worst of the weather but the best of the scores taking three of the four prizes on offer. John Bundfuss, Dave Conabear and Jim Enright took first prize with an excellent 84 points, just one ahead of the only prize winners from the second draw, Ed Copp, George Crabbe and David Jordan. Third prize went to Peter Caston, Steve Gidley and Wally Phillips with 81 points with the fourth and final prize won by Danny Enright, Frank Greenwood, Ray Williams and Richard Wilson. The best of the weather did nothing to help the last team out of Andrew Chandler, Richard Eagles and John Veale whose 60 point score entitled them to the award of the balls. Reports came into the clubhouse of a remarkable shot on the fifth when Richard Nicholls holed out for a 5 for with a chip in from way off the green. We would like to be able to record the length of this remarkable shot but estimates of its length varied too much with some claiming a distance that many believed beyond Richard's range even with a driver.
Wednesday 13th July - Roll up - Bill Dick Reports:
Knock-outs, Pentathlons and the Shiphams Trophy took their toll on the numbers playing .
15 in the early draw and 10 in the second.
3 prizes with 3rd going to D Conabeare, N Evans and P Dewhurst with 74 points.
2nd with 78 points were C Cole, D Jordan and H Smith.
The winners with 80 points were R Rippon, J Lawrence & D. Mears.
Winning, if that is the right word, the balls were the hapless trio of T Berry, R Baird and our reporter with a score that is too embarrassing to record.
Monday 11th July - Devonians Reign Supreme
- Paul Willcocks reports:
The eagerly awaited annual Devonians v The Rest of the World matchplay encounter saw fifteen 4-ball matches tackle a course that was in superb condition but a strong wind throughout the day made shot-making difficult requiring all of us "oldies" to rely on short-game skills(???) acquired over many years to make a reasonable score.
The natives got off to a flying start by putting 6 points on the board without reply and claimed the bragging rights for the third year running by winning 11 matches to The ROW's 4 taking the running total to 13½ to 9½ in favour of the Devonians over the 23-year history of this event. The immigrants' team captain pledged to do all he could to try to regain the trophy (and some respect) in 12 months' time.
Nearest the pin in two on the 9th was won by Brian Kelly for the Devonians and John Bundfuss for The Rest and on the par 3 15th the closest tee shots of the day came from Martin Rutley for the Devonians and Paul Fricker for The Rest.
As always with seniors' golf "senior moments" abound and today was no exception when one Devonian attempted to putt what he thought was his ball only to discover that it was the marker ball (with spike attached) for the "nearest-the-pin". Ball and spike did a couple of cartwheels before coming to rest.
The match was followed by a delightful dinner and attendant camaraderie which rounded off a day that celebrated all that is special about seniors' golf at Downes Crediton.
Friday July 8th - Roll up - Graham Thompson Reports:
The 21 of us who turned out for today's roll-up enjoyed excellent weather for golf with a light breeze strong enough to provide some excuses but not enough to create challenging conditions. Indeed, it had the benefit of keeping the day from becoming uncomfortably humid. The fairways are now showing the full benefit of the improved mower and the whole course was in excellent condition. Your reporter and his team did however find that the speed of the greens was a poor match for the speed of their putts but it would be harsh to blame the green staff for this.
The split between the first and second draws – 10 and 11 – meant that we had three 4-balls and three 3-balls competing for three pries, and of course the award of the balls. Despite this high percentage of winners, your reporter managed to avoid all of these. First prize went to Danny Enright, Nigel Evans and Joe Lawrence with 77 points. Second prize was won by a very surprised team of Rick Eidam, Keith Ham and Roger Phillips with 74 points, 2 points ahead of the third and final prize winners, Richard Nicholls, Bob Rippon and Richard Wilson. The balls might have been awarded to the only 4-ball in the first draw had they stayed long enough to collect them. They didn't, and this left Roger Field, Stan Gibson, Wally Phillips and Lawrie Taylor to collect them for their 67 point total.
Thusrday &th July - Friendly v Exeter ( Home ) - Andrew Chandler reports:
On a fine sunny day we entertained the return match with Exeter having had a 5-1 drubbing away. They brought a very strong team and we did well to halve 3 games to 3. Well done John Essery, John Cann, Paul Fricker, Andrew Gilg, David Jones and Bill Dick who all won, the others shall remain nameless! John Essery was nearest the pin.
Apparently we have won the battle of the fountains, they agreed ours was bigger. I have to acknowledge that the course was playing suberbly and we all enjoyed a satisfying meal of Roast Pork.
Wednesday 6th July - Roll up - Bill Dick Reports:
A friendly match, pentathlon and knock outs reduced the numbers for the roll-up down to 26. 15 early 11 later. There were 3 prizes.
Memo to the lay up king. A player on a handicap of 18 like Steve Gidley only gets 1 shot a hole. Therefore his 5 on hole 14 is only worth 3 points not 4.
In third place with a score of 76 (not 77) were R Nicholls, S Gidley and Alan Mathews.
2nd with 77 were the quartet of L Taylor, I.M. Pring, K Napper and the quiet man R Eagles.
Winning with 78 were Cyril Dawes, Dennis Wright and Roger Phillips.
Picking up the balls only because they were still there Messers Tomkins, Phillips W., Pettifer and Legasick.
Wednesday 6th July - Friendly v Ifracombe (Home) - Graham Cox Reports:
This time it was the turn of the Ilfracombe Seniors to test their geography, or at least programme their Sat Navs, and find their way to South Devon. (Does Brexit mean they will need passports next time?)
Unfortunately injuries and competition conflicts meant we had to make 3 changes to the team that achieved an excellent 3 all draw at Ilfracombe. However, our substitutes acquitted themselves well, and my thanks go out to Colin Parr, Mike Hammond, and David Lee for stepping in at short notice. We had arranged for good weather and the course was in excellent condition. The visitors enjoyed the course, although it was to prove too much of a challenge for them. For 3 of our pairs it was an opportunity to reverse their loss at Ilfracombe, for the other 3 pairs it was a chance to repeat their winning performance, and I am pleased to report that Downes Crediton Seniors team won all six of the matches.(see Results Sheet).
There were some suggestions that John Essery and Colin Parr's 8&6 annihilation of their opponents was not exactly friendly - the nature in which these matches are intended to be played, but as Captain for the day I have to admit to being pleased with their contribution to the overall result. (Note to self - try and avoid playing in any "friendly" competition against John or Colin).
The outcome of "Nearest the Pin" at Ilfracombe was repeated, with once again only the Visiting team managing to stop a ball on the Green (the 15th). Joe Gillio, of Ilfracombe, won a bottle of wine, as the only person on the card, at 6.4 metres from the pin.
Despite losing the match, the Ilfracombe Captain, Graham Roach, expressed the enjoyment of both himself and his team for the day - both the course and the camaraderie, and look forward to the match next year. He also made special mention of the sign we put up on the Changing room door "Welcoming" visiting teams, which they intend to implement in Ilfracombe.
Monday 4th July - Medal - Paul Willcocks reports :
The monthly medals seem to come around far too quickly for most seniors and a rather smaller field of players today was testament to the unforgiving nature of medal play. However 55 players felt it was worth the effort and for some it undoubtedly was. Tom Pettifer in division 2 (but now in division 1!) lead the way with an excellent net 65. Second in division 2 was Steve Gidley (in the lead for so long until Tom came in) with 66, 4 shots clear of 3rd placed Danny Enright with 70. The 4th and final prize place was claimed by Brian Johnston with 74. Division 1 was won by Alan Draper with a net 67 followed by Brian Kelly on 68, Quin Payne-Cook whose 69 was matched by Richard Tomkins but Quin's BB9 gave him the bigger share of the prize fund. One member decided that his score needed to be watered down somewhat and took the rather extreme measure of ending up waste deep in the lake on the 18th. No harm done fortunately apart from a soggy scorecard and a dampened spirit but he still managed a smile in the clubhouse. Today's competition was also the qualifier for the DMVGA Millennium Trophy and the three players to represent the club are Alan Draper, Tom Pettifer and Richard Wilson. Well played chaps. Roll on the August medal!
Friday 1st July - Friendly v Torquay ( Away ) – John Essery reports:
Moving into July made no difference whatsoever to the weather and we still wait for the summer to kick in, nevertheless conditions were acceptable if a little windy. However, the company was good even if a little late for Pair 3, Ian Pring and David Jones, who started out against just one opponent until the missing player turned up on the 8th tee. For his failure he was appointed collector of the dinner fee and given a detailed briefing from the Captain on the dues for each Torquay player and the Crediton team. The task proved just as difficult as turning up on time and delayed the reply to the Captains welcome from the visiting Captain. Eventually the dinner monitor completed his task, or so we thought until after the Crediton address when someone shouted out "Who is collecting the money from the visitors" This was a case of Seniors golf at its best.
The wine for the nearest the pin on the 13th for the home team was presented to Malcolm Critcher by the Crediton Captain and eventually (after a reminder from one with a vested interest) the Torquay Captain presented the bottle to John Essery for his shot to the 11th.
Two changes were made for this match which clearly strengthened the team, Dennis Wright and Andrew Chandler were brought in to pair up for the sixth match and they record a 7 & 6 victory. The other 3 wins were more closely contested with all going to the 18th. The two losses went to pairs that had won their home legs. The overall result Crediton 4 Torquay 2, (9 1/2 to 2 1/2 aggregate) full details are attached to the Calendar of Events page.
Monday June 27th - Friendly v Honiton ( Away ) - Andrew Chandler reports:
Being just back from holiday I thought I would make sure I arrived in good time for the match due to start at 11.30. I was mildly surprised to find so many Honiton players were there, but even more alarmed to be told that the match was starting at 11.00! Fortunately this apparent lack of communication was not a problem as Crediton players arrived in time and with some shuffling of the order play commenced on time. The weather was mixed, but I had a sun burnt face when I got home so it must have been better than I thought. John Essery and Bill Dick halved, Mike Charnock and Roger Phillips won as indeed did David Jones and myself. Overall result we lost by 2 1/2 to 4 1/2 but on aggregate won home and away 7 1/2 to 4/12. David Jones won the nearest the pin (again) and we had a meal of Ham Egg and Chips which quite frankly did not impress me.
Monday 27th June - Roll up - Graham Cox Reports:
The sunshine brought a good turnout with a total of 39 players.
The early group had 17 Seniors when the numbers were picked from the bag. The organiser's suggestion to send a 2 ball out first met with consensus, but caused confusion when it came to working out the grouping of numbers making up each of the 3-balls (3,4,5, instead of 4,5,6, etc).
However, our ever resourceful Vets got there in the end, even though a couple still looked very confused on arrival at the 1st tee. The late arrival of an 18th member simplified the situation or caused more confusion - depending on your viewpoint.
The later group redressed the balance somewhat by confusing the Organiser as to which members were playing 18 holes and which were playing only 9.
Administration aside, the sunshine and excellent condition of the course set expectations of some great golf and good scores. However the challenging pin conditions were to present a different result, with over half the field scoring less than 30 points, and only 2 "twos" for the day. Nevertheless, a few players rose to the challenge.
Ian Pring took the honours with 37 points, beating Laurie Taylor's 37 with a better back nine. Tom Berry took 3rd place, with 36 points, having rediscovered his putting skills and scoring a 2 on the 13th. Peter Bryan and Cyril Dawes both scored 35 points, but Peter pipped Cyril to 4th with a better back nine. Final prize was for 6th placed Alan Matthews on count back against a further 5 players who also scored 32. Alan also scored a 2 on the 15th.
Friday 24th May - Friendly against Ilfracombe ( Away ) - Graham Cox Reports:
Our intrepid band of twelve handpicked Downes Crediton men made the journey to the furthest extremities of Northern Devon, led by their novice Captain, and achieved a very credible win in three of the six pairs matches. We received a very warm welcome from the natives (Ilfracombe Seniors), and whilst initially the weather was less hospitable, the rain soon blew through and a good game of golf was enjoyed by
all. The course was in excellent condition, although the layout of the course with several blind holes proved somewhat challenging for first time players. The recent rain had slowed the greens and the run on the fairways but they soon sped up as the sun and wind dried them. There was some confusion around the "Nearest the Pin" holes (one for the home team, and another one for the away team) with Downes Crediton players managing to get their names on both but none of the Home team! John Essery demonstrated his depth of experience by picking the correct one and winning a bottle of wine.
Overall a very enjoyable days golf rounded off with a good meal.
Unfortunately our reasonably successful day was marred by an injury which Eric Parkes suffered to his Achilles. (We have checked with the Vet and he won't need to be "put down", but Eric's appearance in the return match is now dependant upon his physio's skills).
Friday June 24th - Roll Up - Bill Dick Reports :
Another relatively low turn out saw 9 in the early draw and 16 in the second draw.
There were 3 prizes.In third place with a back 9 of 37 in a total of 75 points were Dave Conabeare, Alan Matthews and David Moss.
Second also with 75 points but with a back 9 of 41 points were Walter Lonsdale, Wally Phillips and Joe Liversage.
Winning with 80 points were Cyril Dawes, Keith Ham and Roger Phillips. This was due in no small part to Cyril who shot a gross 36 on the front nine which was worth 24 points to his team.
The lowest score of the day of 66 was recorded by Trevor Stoneman and the two Pauls-Willcocks and Fricker. They hung around long enough to collect the balls.
Roger field and only Roger Field thanked the organiser for his efforts.
Tuesday - 21st June - Friendly against Yelverton ( Away ) - Eric Parkes Reports:
The weather proved to be much better than the forecast with periods of very warm sunshine, ideal for playing golf.
Due to the recent bad weather, Winter rules were sill in force on the course which was not in as good a condition as previously experienced.
We have found Yelverton to be a hard team to beat on their home course as our Emerton Court Team recently experienced. On this occasion, I am most pleased to report a win for Downes Crediton by 4 matches to 2 . This meant that we achieved the double as we had won the Crediton fixture by 3.5 to 2.5 .
Congratulations goes to Colin Cole for being nearest the pin on the 8th Green.
It is always a pleasure to play against the Seniors of Yelverton who go out of their way to make us most welcome.
Monday June 20th - The Albert Mid-Summer Cup - John Essery reports:
With the weather not at all matching the title of the event it came as no surprise that there were a few withdrawals. It was equally unsurprising that a few regulars had side-stepped this event in favour of a trip to another course but what was not quite as predictable was by lunch time they were back on their own course, the weather had not been good at Tavistock and the course was closed. With 44 competitors, 20 in Division 1 and 24 in Division 2, playing ¾ handicap maximum stroke allowance 18, the scores were never going to be high but nevertheless Steve Lay, the last competitor on the course, returned a card of 36 points to beat Paul Fricker with 35 and Andy Scoots (34) in Division 1. As anticipated the scores were not as high in Division 2 where Robin Tooze took the honours with 30 points beating Rick Eidam on the back 9 with Frank Morrell (29) and Alan Matthews (28) claiming the minor prizes.
A total of 11 twos were recorded. The full prize table can be view in the results column of the Seniors Calendar of Events.
Friday June 17th - Roll Up - Graham Thompson Reports :
Rain and possibly thunder storms were forecast but 24 of us took the risk and suffered less than we might have expected. Intermittent light rain in the morning was followed by a long warm dry spell with heavier rain coming late enough to catch only the last few groups. Scores were surprisingly low with only the winning team of Rick Eidam, Paul Fricker and Dennis Wright recording what would normally be regarded as a respectable score with 76 points. This took first prize with Stan, Dave and Roger (presumably Gibson, Jordan and Phillips) taking second prize with 73 points. They were the last team back to the club house and caused the organiser to hastily recalculate how many teams comprised the 24-man entry and re-calculate the prizes accordingly. Unfortunately, this adjustment moved his own team of Tom Berry, Keith Ham and Graham Thompson down to third place but at least they got their £1 back.
Two teams came in with 64 points but were spared the ignominy of being awarded the balls by the unlikely team of Joe Liversage, Laurie Taylor and Paul Willcocks with 61 points. There were some when standing on the first tee who tipped this threesome as potential winners. What an unpredictable lot we are.
Friday June 10th - Friendly against Enmore Park at (home) - Eric Parkes Reports :
The Home fixture against Enmore Park was completed on Friday 10th June .with the CreditonTeam showing five changes from those who played the away fixture on the 24th May.The weather was overcast to start with and then became a mixed bag of drizzle, rain and sunny spells. The course was once again in superb playing condition and ideal for the match.
The result was a magnificent win for the Downes Crediton Team of 6 matches to 2 which was a revenge for the loss of 5 matches to 2 away at Enmore Park . Nearest the Pin was won by Paul Willcocks for the home Team with the Enmore Park players failing to land a ball on the 15th Green. This pleased our Seniors Treasurer Bill Dick who only had to hand out one bottle of wine instead of two.
At the after dinner address as Captain of the day I thanked those who had helped out by making up the team, some with very short notice. I also went on to say how very sorry we all were that we would no longer be playing this fixture against Enmore Parkure in the future.
Friday June 10th - Roll up - Graham Thompson Reports :
The rigours of Tom Pettifer's group excursion to Wiltshire clearly took their toll on our members' stamina although some managed to appear later in the morning for the friendly match against Enmore Park. The weather forecast did not help and we endured a mixture of very light rain and heavier showers throughout the day. It was nonetheless a surprise that only 12 turned up for the normal roll-up, 8 in the first draw and just 4 in the second. The winner-takes-all competition that ensued was further reduced when one of the early teams retired on compassionate grounds after just seven holes. The prize for the best acrobatic performance of the day was comfortably won by Dave Vowden with a double somersault – possibly with tuck – on the slope of the sixteenth. There was some discussion whether this was part of an attempt to play the ball, a practice swing or just an attempt to achieve a secure stance. In the end it did not matter as he unsurprisingly failed to make the card on that hole. The golf competition was more closely fought with both the remaining 4-balls scoring 78 points and also scoring 37 on the back nine. The result was finally determined on the back 6. This allowed the organiser to announce to the only four contestants left in the club house that the prize was won by Keith Ham, Herbie Smith, Graham Thompson and Dave Vowden.
6-9th June - Tom Pettifer's Salisbury Trip - Ian Pring Reports :
Courses in order of play : Salisbury & South Wilts, Tidworth Garrison, Day off - 9 played Hamptworth, Yeovil Gc. All tremendous courses in excellent condition in a beautiful part of our country with vast area's of woodland all around.
Excellent week was had by all 18 of us in idyllic great British weather conditions (unusally red hot and sunny ) at Salisbury's Kings Head Inn. Weatherspoon's very busy pub in the heart of town next to the river, always running out of one beer or another e.g Guiness, but not always Dennis's fault.
Tidworth Garrison exumed military smartness and precision with rapid machine gun fire in close vacinity making some of the old sweats amung us rather jumpy at times. Laurie Taylor under Mike Conder's supervision showed less precision and accuracy when instead of returning promptly to Salisbury took the wrong heading towards Andover with a tendency for London before corrective action was taken.
Further scatter tactics ensued from within the group on maneuvers to the Yeovil area with stealth ensured by everyone taking different routes. Stan realising he had gone wrong when the green keeper was stood in front of his car waving his arms frantically.
Ricky and Dennis had to retired home directly, rather worse for wear from the weeks excersise.
However another fanatastic week, thanks again to Tom.
Results for the week ( 3 Rounds ):-
1st. Laurie Taylor. 103pts, 2nd. Tom Pettifer. 96pts, 3rd. Ian Pring. 94pts, 4th. Richard Burston 92pts, 5th. Colin Cole. 87pts, 6th. David Jordan 85pts.
Monday 6th June - Seniors Medal - Eric Parkes reports:
44 Seniors turned up to do Battle for the monthly Medal Competition. ( Sorry, no pun intended ) There were 23 in Division 1 and 21 in Division 2 which explained why there was so much room in the Car Park. It was then realised that a large number had gone off to Salisbury for 4 days, 8 were playing at Teignmouth and a further 2 at Lyme Regis.The weather was sunny,very hot with very little breeze but with the course in good condition ,was ideal for Golf.
On viewing the start sheet there were gaps between the playing groups, and in one case after 11.12,am of up to 40 minutes This enabled the N.H.S to slot in and play their normal 9 hole roll up which did not effect the Competition in any way.
Although it became very hot during the day I was pleased to note that nobody fell into any of the lakes either by accident or to cool off . I must confess that a number did find the Fountain very inviting but resisted the urge to dive in after their ball after playing off the 10th Tee.
Congratulation goes to Jim Downing for winning Division 1 with a score of 67, second was Mike Charnock with a score of 68 with bb9, third was Alan Willey with a score of 68 bb9, fourth and final place went to Colin Parr with a score of 69. In Division 2, congratulations goes to Ron Berry with a score of 66, second with 71 was Danny Enright and 3rd with a score of 73 was Vaughan Gallavan.
There were 8 two's James Downing, Danny Druce, Alan Draper ,Paul Ezard ,Gerry Hodder, Quintun Payne Cook and Alan Willey who managed to achieve the double.
When the results were announced, there was a distinct lack of applause as there were only 3 people present to take note.
Thursday 2nd June - Away Day at Dainton Park - Andrew Chandler reports:
35 members plus Vernon Langdon enjoyed a great day out. The sun shone, the course was in very good condition and an excellent carvery finished the day off perfectly.
The Division 1 Gerry Mannel Trophy was won by Alan Draper (36 points) and Division 2 Colin Smith Trophy by Paul Willcocks (37 points). The team prize was won by Graham Patememan, Rick Eidam & Richard Burston with Brian Williams, Dave Jordan and Paul Willcocks collecting the runners up. Spot prizes went to Alan Draper, Brian Vicary, Rick Eidam and Colin Cole.
Tuesday 31st May - Friendly Match v Holsworthy ( Away ) - Paul Willcocks reports:
Having lost 4 -2 to Holsworthy at home match the Downes Crediton Seniors restored some pride and respectability in the return match which was halved 3-3. The performance of the day came Peter Bryan who played as a one-man team following the late withdrawal of his partner for medical reasons. In the true spirit of these friendly matches the Holsworthy captain arranged for Peter's opponents each to play alternate holes to make a fairer contest. Peter clearly showed that he was up to the task with a convincing 4 & 3 win. Well done Peter and thanks for taking a difficult situation in good spirit. Other victories were recorded by Dennis Wright/David Jordan and David Lee/Colin Cole.
A persistent and very strong wind made accurate shot-making even more difficult (if that were possible for most of us) but that did not prevent Roger Gratton from putting his tee shot into the wind to 9 feet and 4 inches from the flag on the 161 yard 14th to take visitors prize for nearest the pin. For the home side Chris Fowler put his tee shot just 3 inches closer to claim the wine.
As always Holsworthy were very welcoming and we thank them for their hospitality. The course was in excellent shape and the post-match dinner was delightful and plentiful.
Thursday 26 May - Friendly Match v Tiverton at ( Home ). Andrew Chandler reports:
On a beautiful sunny day we assembled to take revenge on our 4/2 loss at Tiverton. Despite our enthusiasm events did not go entirely to plan and we lost again 4/2.
Nevertheless the game with one of our "neighbours" was played in the best possible spirit with the traditional glass of port aiding the relaxed atmosphere.
The course was looking and playing brilliantly and a fine roast pork meal ended the day off.
Congratulations to David Jones for being closest to the pin and to John Essery, Eric Parkes, Brian Williams and John Cann for being winners.
Tuesday 24 May - Friendly Match v Enmore Park ( Away ). Eric Parkes reports:
The away leg of the fixture was played on Tuesday 24th May at Enmore Park. The weather was warm and sunny and with the course being in superb condition was ideal for playing golf.. Unfortunately,due to two very late cancellations we fielded a Team of 7 pairs and not the customary 8..
As on previous occasions, we found the going tough against the home team and although we fought hard could not overcome a defeat by 5 matches to 2. Well done to Ian Pring and Ken Legassick for winning their match 4-3 and also to Mike Hammond/Andrew Chandler , Joe Liversage/Graham Cridland for obtaining a half. Our congratulations go to Mike Hammond .who won the wine by being nearest the pin on the 18th hole in 3.
I am so sorry that this will be the last time that the Seniors will play this fixture at Enmore Park and hope that it will not be too long before we can return to this superb Golf Course .
Monday 23 May: Niblick – John Cann reports.
Monday saw the seniors back to the chance of winning a trophy following our successful BB open, medal competitions and Bank Holidays. A good field of 29 and 49 in division 1 and 2 respectively took to the course in conditions that left no room for excuses but a number were forthcoming as scores were recorded.
First place in division 1 and the winner of the Niblick was Jim Kenshole who recorded an impressive 38 points off his 6 handicap. Second, third and fourth place were filled by Peter Caston, Mike Conder and Alan Willey in that order all scoring 36 points separated by back nine scores and in Peter and Mike's case by the back six.
In division 2 Frank Morrell took the honours with 37 points, Peter Bryan (36) was second beating Joe Hull on the back nine into third. The remaining four prizes were won by Jim Enright, Vaughan Gallavan, Graham Jones and John Hooper.
There were five twos – Mike Hammond achieved two, with one each by Jim Kenshole, Dave Jordan andJohn Dean.
Emerton -Court Trophy at Yelverton on Monday 23 May. Andrew Chandler reports:
The return leg took place after Crediton established a 4 1/2 to 1/2 lead at home. The return proved to be as challenging as feared with a similar result.
This meant a play off resulting in Yelverton winning at the second extra hole.
This was an extremely close fought tie and all the players taking part must be congratulated on the high standard of play. In particular Paul Ezard and Quin Payne-Cook who fought back from dormie 2 down to tie match and take the tie to the extra holes. Unfortunately one of their (on form) opponents received a shot on that hole and that was that as they say.
If the second tie and play off had been at Crediton, I am sure the result would have been different.
Well done guys and lets hope for a kinder draw next year.
Friday May 20th - Roll up - Graham Thompson Reports:​
The 22 of us who entered today's competition enjoyed a generally cloudy but nonetheless pleasant day's golf with no wind to offer any excuses. In fact, there was nothing in the weather or the condition of the course to excuse the generally poor scores returned. Even less excusable was the omission of one of the handicaps from one of the joint highest scoring cards. That this team would have been the overall winners by dint of a better back six only made the omission worse. Disqualification was the inevitable result. This allowed Ron Platt, Bob Rippon and Roger Southgate to collect the first prize with a score of 77 points. John Cann, Jim Downing and Graham Thompson could only manage 71 points despite a 40-point front nine and were astonished to find that this gave them second place. A dip into the bag of balls seemed more likely. Even they were not as surprised as the day's only 4-ball of George Crabbe, Roger Fields, Stan Gibson and Dave Vowden who picked up the third and final prize with a score of just 67 points.
Two teams from the first draw both with 63 points propped up the bottom of the table but none of them stayed long enough to collect their just reward. This allowed Joe Liversage, Walter Lonsdale and Wally Phillips to claim the award of the balls with 65 points, only 2 off the prizes!
Wednesday May 18th - Friendly Match v Torquay - John Essery Reports:
Following a defeat at Tiverton on the 17th May we got back to winning ways with a well earned result of 5 ½ to ½ with the team of Alan Draper and Paul Willcocks leading the field with a 8&6 victory. Alan further advertised his form by claiming the nearest the pin on the 15th, the Torquay team found the task too difficult which will certainly put a smile on our treasurers face. Chris Sillifant made his debut for Crediton partnering Peter Bryan to a 4&2 victory. The away game will be at Torquay on 1st July.
Tuesday 17th May - Friendly Match v Tiverton ( Away )- Andrew Chandler reports:
Local rivalry was renewed with the first leg played at Tiverton. Despite some heavy rain on the way over, the rain stopped as play commenced and the match was completed largely in the dry.
More remarkably each pair was complete bearing in mind Dennis arrived and then announced he had forgotten "something important" and had to return home. Nevertheless he made it back in time. First blood went to Tiverton 4-2 so well done to John Essery and Eric Parkes who won and to David Jones helping me to a rare victory!! As is customary with Tiverton the port was passed around in the "decanter" which proved to be an enjoyable way to end a pleasant day and hopefully give us the incentive to reverse the result next Thursday and enjoy more port even more!!
Monday 16th May - Paul Willcocks reports:
The joys of the monthly medal were available once again to the willing and not so willing participants on a day when neither the weather nor course conditions could be blamed for the many less flattering scores returned. The sun shone and a gentle breeze provided ideal conditions for good scores but despite these the CCS for the day rose to 72.
Division 1 was won by Graham Pateman with a net 70 followed by Stephen Pitt (71), Jim Downing (72) and Mike Hammond (74) whose respective pro shop accounts were suitably inflated as reward for their successes.
Division 2 was won by Peter Johnson with net 71 and subsequent prizes were won by Graham Cox (72), David Cousins (73), David Lee (74) courtesy of a BB9 and Peter Dewhurst (74).
The clubhouse chatter following the completion of the competition centered on Colin Parr who recorded three 2's but still managed to return a net score that left him in a lowly position just ahead of several "nil returns". He declined a media interview to discuss his meltdown preferring instead to go home and consider tomorrow's runners and riders at Lingfield and Wetherby.
Friday May 13th - Roll up - Graham Thompson Reports :
The return of good weather was welcomed by all with even some of the first draw regulars who had played the previous three days at China Fleet turning out to make a total of 23 with both of the 4-balls in the second draw. On Wednesday, the two 4-balls came in first and second place with your organiser and Dave Vowden on the winning team. Today, it was the turn of the only 3-ball in the second draw (George Crabbe, Rick Eidam and Roger Phillips) to win while David and Graham did the honourable thing (aided and abetted by their partners, Keith Ham and Ken Legassick) and took the ignominy of being awarded the balls for their total of 68 points. In between these, second place was won by Mike Conder, Ed Copp, Jim Downing and Paul Fricker with 74 points. The third and final prize was won by Jim Enright, Nigel Evans and Andy Scoots. Mike Brown, Andy Gibson and Peter Knight might have been awarded the balls with a score of 62 points had they stayed long enough to collect them.
Friday 13th May - Paul Willcocks reports:
After a 5½ to ½ reversal at Bigbury last month the team were keen to recover some respectability in the return match. In contrast to the weather experienced in the away match the return was played on a warm sunny afternoon which helped to present the course in terrific condition to the delight of the players. Subsequent emails from Bigbury expressed how much their team enjoyed the match and those who played the course for first time are already looking forward to returning next year.
The result was a mirror reversal of the previous encounter with DownesCrediton securing a 5½ to ½ victory to square the aggregate at 6 – 6.
Nearest the pin for the visitors was won by Jason Holtam which no doubt impressed his match captain with whom he was playing and Martin Rutley took the honours for the home side.
Many thanks to Ian Pring and Mike Hammond for coming off the bench at short notice to cover illness and injury and for winning their respective matches.
Monday 21st March - Roll up - Paul Willcocks reports:
With the first of this season's friendly matches taking 12 good men and true away from home 21 reported for the first draw and 24 for the second. Bunkers were still out of play and the organiser chose a 1-2-3 format for the day – a decision that was generally well received. The first draw proceeded smoothly but the roll-up gremlin surfaced once again to disrupt the second by making it impossible for an accurate head count to be made despite the organiser's best efforts which produced a different total each time. Eventually the numerical difficulties were resolved without too much blood being spilled, much to the organiser's relief.
Third prize went to Richard Nicholls, Brian Johnston and Steve Gidley with a creditable 87 points. Second prize was claimed by Robin Tooze, Frank Greenwood and Cedric Chapple with 89 points but countback saw them miss out on first place by a 5-point shortfall on the back 9. The winners' cheques therefore went to John Bundfuss, Bob Rippon and Brian Mears also with 89 points.
The organiser is taking an extra pill and will retire to bed early.